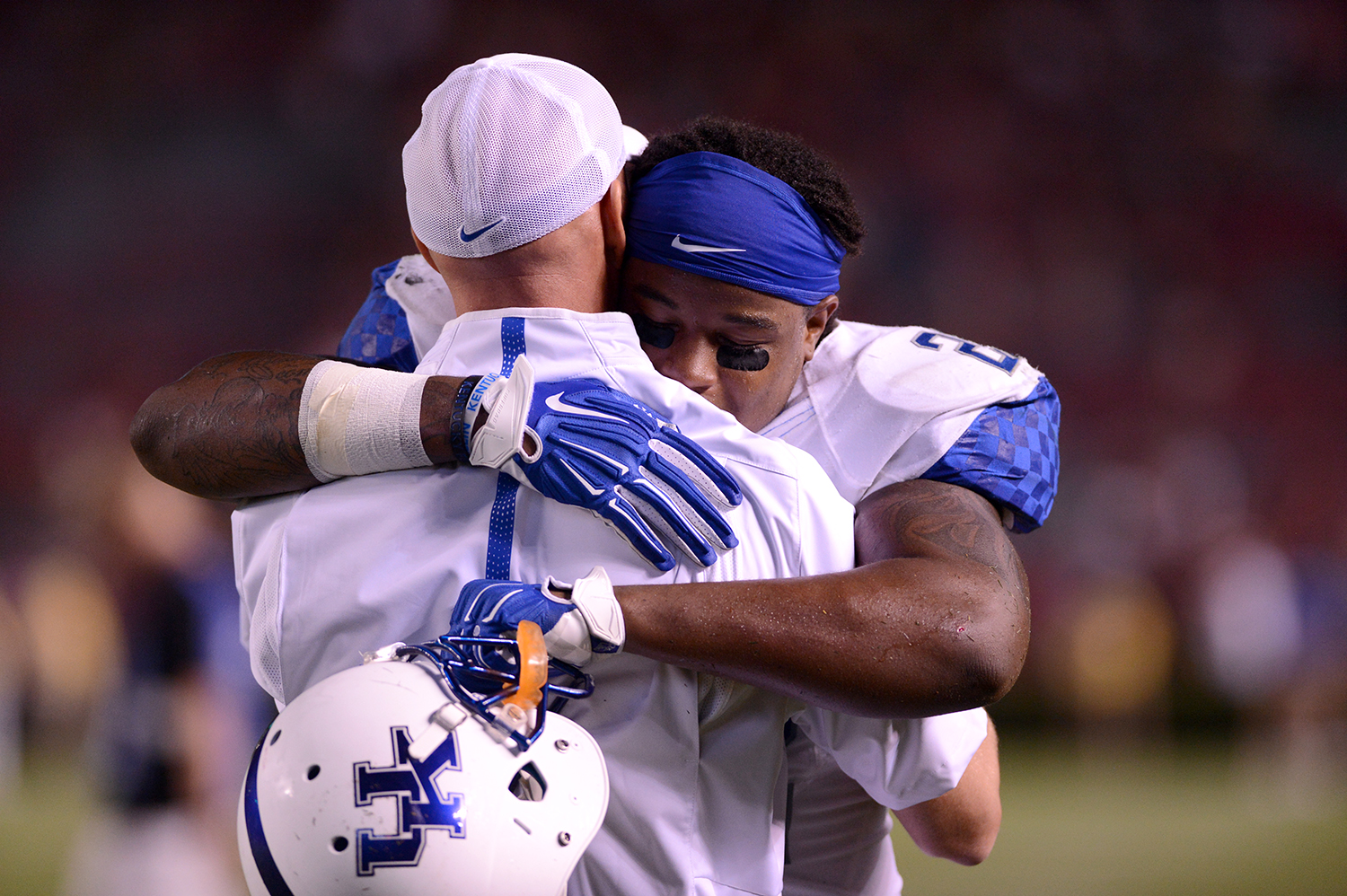 For six years, Kentucky had lost Southeastern Conference road games in every conceivable way.
The one common thread was that, no matter the circumstances, opponents seemed to find ways to win.
The game really has changed under Mark Stoops, because on Saturday the Wildcats were the ones who willed their way to victory, their first in SEC play away from home since 2009.
"We're certainly very far from a finished product, but I really like where we're headed and I really like the mentality of this team," Stoops said. "Every opportunity like this that you can win and grow and learn from, it's only going to help us. This is going to help us. That momentum swing and being in a tough, tight game on the road in an SEC opponent and overcome it and win is huge."
The only hiccup in a dominant first half for Kentucky was a Patrick Towles interception that led to a short field and a Gamecock touchdown. The Cats would reel off 24 unanswered points — with Mikel Horton, Jojo Kemp and Towles all rushing for touchdowns — to take a commanding 17-point lead into the break.
The recipe in the second half was simple on paper: keep the pressure on but play smart. Executing the plan in the face of a Williams-Brice Stadium crowd of 82,178 and against a South Carolina team eager to avenge a 2014 defeat would be more difficult.
"We addressed it immediately at halftime that we knew this was going to be a four-quarter game," Stoops said. "It always seems to happen. We're very evenly matched. By no means did I think anybody let down at halftime."
The Gamecocks then forced four consecutive three-and-outs, flummoxing the UK offense that rolled up 292 first-half yards. On offense, South Carolina moved the ball at will…until the Cats had their backs up against their own goal line.
Three times South Carolina drove deep into the red zone and three times UK held the Gamecocks to field goals.
They were the kinds of stands home-standing opponents usually make against the Cats.
"It was really big," Stoops said. "It was really big because the momentum was going against us and to get those stops was very big at that time."
When South Carolina did finally find the end zone to cut the Kentucky lead to 24-22, the Gamecocks of course lined up for the two-point conversion to tie the game with 8:09 left. Not only did the Cats get the stop, but Khalid Henderson also poked the ball away from Pharoh Cooper and Denzil Ware picked up the fumble and sprinted for two crucial Kentucky points.
"It happened so quick," Stoops said. "I didn't know if he was in and then I saw the ball on the ground and I really didn't think too much to be honest. I was really hoping he was going to get it in. I was really watching as the play was developing, honestly I was watching our guys looking to peel back to pick up anybody to make sure he got it in. I knew that not only stopping them was critical, but to gain that two (points) was huge."
When another Kentucky drive stalled, the defense took the field one final time. Just as South Carolina crossed into Wildcat territory, seeming poised for the go-ahead score, a true freshman stepped up. Christ Westry intercepted Perry Orth's pass to cap a night that included a sack and an end-zone pass breakup even though he struggled occasionally matched up with Cooper, South Carolina's star receiver.
"It was a great learning opportunity for him," Stoops said. "He really, he made some big plays, but to be honest, he had a rough night. He had some critical mistakes that we'll get cleaned up. But I'm proud of him just to dig down and grow and continue to fight and make those plays, in particular when he was one on one with those guys and he won that battle. That's tough to do against an All-American."
Needing a few first downs to kill the clock seemed like a tall task for a stalled UK offense, but the Cats played for the win. Towles completed passes on first and second down to set up third and five before Shannon Dawson dialed up the play call of the game and Towles took a quarterback draw 11 yards for the first down.
From there, it was all Boom Williams.
The freshman, who now has three consecutive 100-yard rushing outings, had an eight-yard carry, then picked up three more for another first down. On the ensuing play, he picked up 25 to seal the victory.
They were the kinds of plays opponents always made, but this time the Cats were the ones making them. And after all those plays, the Cats were the ones celebrating in the locker room.
"It was fun," Stoops said. "It really was. I mean, that's what it's all about. It's just about growing and developing as a program and that's again, you don't talk yourself into that, you don't luck into those things. You just gotta become a solid football team and we're getting better. And to see them enjoy it and celebrate like that, it means a lot."
Now, the next one means even more. After starting 2-0 and winning its first SEC opener since 2007, the Cats will welcome Florida to Commonwealth Stadium next Saturday at 7:30 p.m. Even though he still had some celebrating to do, Stoops couldn't help but look ahead.
"We have a huge game next week, but you know what?" Stoops said. "I'm completely jacked up to get this win to go back home. To get Florida at home. I know our fans are going crazy again, and, I want a full house. And again, I wanted to deliver this game, to be 2-0, to go back home and play Florida next week."