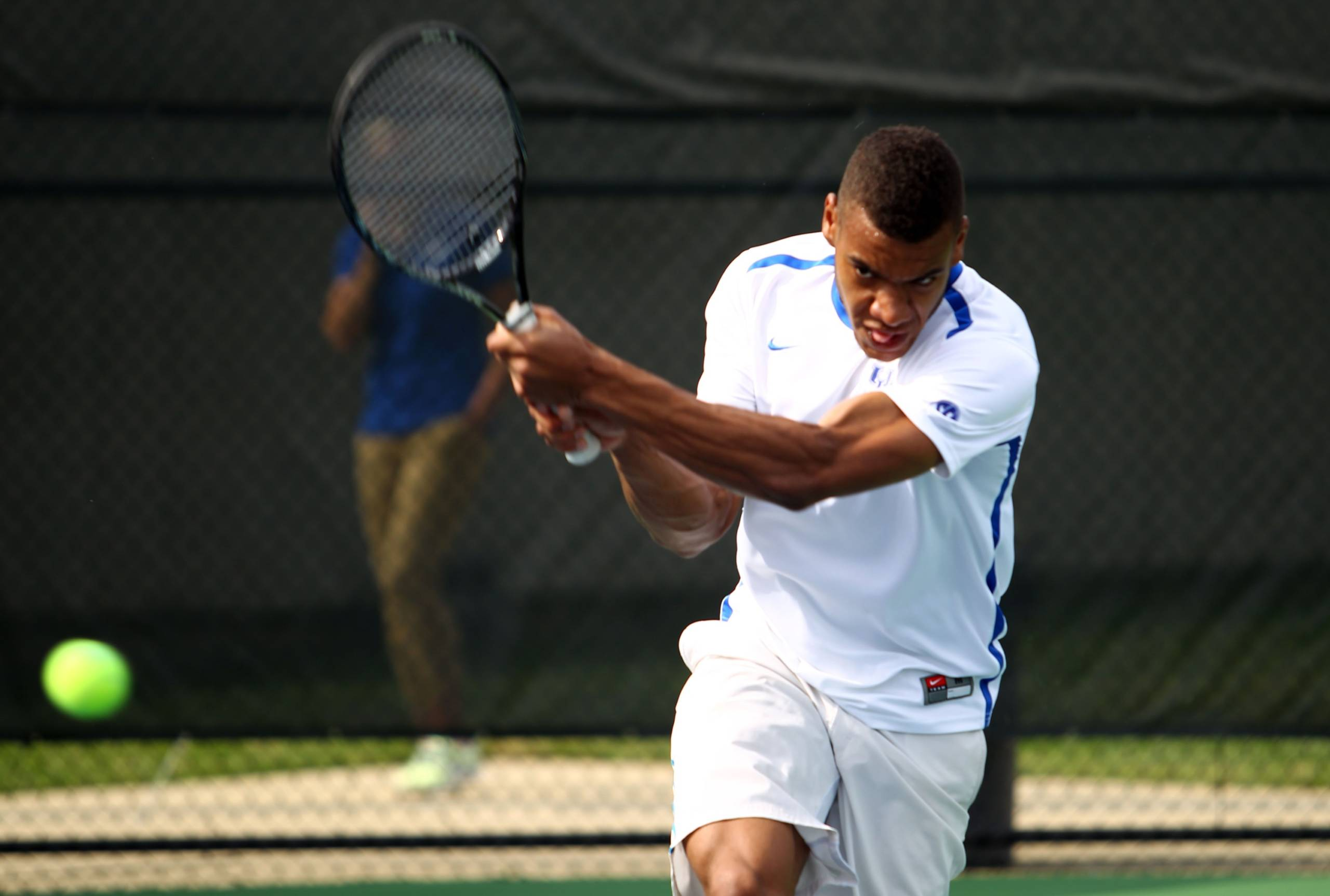 Wildcat Tennis Pros Seeing Unparalleled Success
July 11, 2015
LEXINGTON, Ky. – The University of Kentucky men's tennis program is experiencing unprecedented success in the professional ranks as of late, with alums Alejandro Gomez, Tom Jomby, Alexis Musialek, Eric Quigley in addition to current Wildcat William Bushamuka all making International Tennis Federation finals in singles events.
"One of my favorite parts of this job is seeing our former players and our current players being so successful on the pro tour," UK assistant coach Matt Emery said. "It is one of the most gratifying elements of coaching to watch your players achieve their dreams. These players are some of the hardest-working players to ever wear a UK uniform, and they deserve every bit of success that comes their way."
Musialek, a native of France, is having a dream summer, and has already claimed two singles titles this summer, in Iran and France. He is currently slotted at No. 285 in the latest ITF rankings, just 21 spots off his career-high ranking of 264 from February of this year.
Gomez, the Colombian, will compete in the Cali, Colombia Futures F5 final on Sunday afternoon, looking to capture his first-career singles professional title. Gomez has also advanced to two quarterfinals since February, with a long history of playing his best in the biggest matches.
Jomby, the native of Nantes, France,has had a wonderful summer, including collecting his first-career professional singles title in Spain on June 27. He has also been in three other championship finals since his season kicked off in January. He is currently slotted at No. 524 in the world.
With Jomby's win, he is expected to climb to No. 350 in the world rankings. Witten is in his 10th full-time season on the circuit and was at his highest ranking at the 2009 U.S. Open, when he lost to Sunday's Wimbledon winner and world No. 1, Novak Djokovic. 
Quigley, who is the all-time career wins leader in Kentucky history, is up to No. 357 in the world rankings this week, just five slots off his career-best ranking from June of this year. The Bluegrass native has advanced to the finals in Canada this June, in addition to making the semifinals of the Richmond, Canada event. Quigley also beat Mark Philippoussis this week, a former No. 1-ranked player in the world.
Witten is currently No. 775 in the rankings and has advanced to the semifinals of the Tampa Bay futures event already this season.
Current Wildcats star William Bushamuka has advanced to a final of a futures tour event already this year, and has also moved himself into the semifinals of two different events in Zimbabwe. He is ranked No. 1031 in the world.

Current Rankings

Alejandro Gomez – 564
Tom Jomby – 524
Alexis Musialek – 285
Eric Quigley – 357
William Bushamuka – 1031
Jesse Witten – 775
For the latest on the Kentucky women's soccer team, follow @UKMensTennis on Twitter and Facebook, as well as on the web at
.