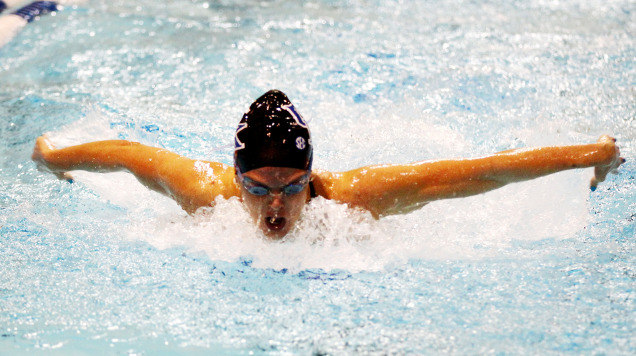 Bechtel Makes National Team Debut at World University Games
July 3, 2015
World University Games Schedule and Results | USA Swimming Media Guide
LEXINGTON, Ky. — Kentucky swimmer Christina Bechtel will make her USA Swimming National Team debut this week at the World University Games in Gwangju, South Korea. A five-time All-American and one of the most decorated swimmers in UK history, it marks the first international competition of Bechtel's career.
Bechtel will compete in the 50 and 100-meter butterfly at the World University Games. Her personal best in the 50 is 26.72, while she posted a 59.05 in the 100 butterfly. Both times came at the 2014 USA Swimming National Championships, where Bechtel finished fifth in the 100 butterfly and seventh in the 50 to earn a spot on Team USA.
"One thing that I'm really looking forward to is gaining experience," Bechtel said. "This is my first international meet and it's really far away. They simulate a lot of Olympic trials, so I think it would be good to have the experience in a big pool with a huge crowd. It's just a different atmosphere than what I'm used to, different than the NCAA or the SEC championships."
Bechtel concluded her UK career in March and was a vital piece of UK's resurgence under second-year head coach Lars Jorgensen. The 2015 Southeastern Conference (SEC) champion in the 200-yard butterfly, she notched a runner-up finish in the event at the 2015 NCAA Championships, the best NCAA finish by a UK swimmer in program history.
Along with her five All-America accolades, Bechtel owns the school record in three individual events and two relays in short-course-yards, NCAA format. In long course competition, the Franklin, Tenn., native holds the record in the 100 and 200-meter butterfly.
The buildup to her first national team event began in September, when Bechtel was named to the team for the 2015 season. Now, her goals are becoming a reality.
"I'm really excited. It's something that's always been a goal of mine. I qualified last summer so I've always been thinking about it throughout the school year while I've been getting ready, and it's pretty exciting that it's right around the corner. I'm excited to finally get to compete, and it being over the Fourth of July, I always thought that was cool to be somewhere representing our country at that time."
It might be her first international event and the goal of competing for Team USA is achieved, but Bechtel will be looking for more beginning on Saturday in South Korea.
Coming off a strong senior season at Kentucky, Bechtel wants to show she belongs amidst all the adjustments of traveling overseas for the first time.
"The main thing that I want to get out of this meet is to prove that I can do something and see that I can hold up against these big names," Bechtel said. "I think that there's a lot of experience I can gain from this meet. It's not my final meet of this season, we're pretty focused on nationals in August. But, I just think it'll be really cool and hopefully really fun. South Korea is 13 hours ahead. It's a completely different culture, so it'll be cool learning about another culture and experiencing that aspect of it."
Bechtel is excited and ready to soak it all in, but she's just as eager to make her time in the water count. Saturday, for the first time with "USA" on her cap, she'll get that chance.
Heats in the 50 will be on July 4 at 8:30 a.m. local time (July 3, 7:30 p.m. ET), while the semifinal will begin at 7 p.m. (July 4, 6 a.m. ET). The 50 butterfly final will be the next day at 7 p.m. (July 5, 6 a.m. ET). Heats in the 100 will be held on July 7 at 8:30 a.m. (July 6, 7:30 p.m. ET) and the semifinal at 7 p.m. (July 7, 6 a.m. ET). The final will be the following day, July 8, at 7 p.m. (July 8, 6 a.m. ET).
The schedule and results from the World University Games will be available at www.gwangju2015.com. Live results from Gwangju, South Korea can be found on Twitter at @USAswimming and @USASwimLive. More information on USA Swimming at the World University Games can be found at USAswimming.org, while the media guide, with a complete schedule and roster is available here.
For complete news and updates on the Kentucky Swimming and Diving program, go to UKathletics.com/SwimmingDiving. Breaking news, behind-the-scenes updates and more can be found on Twitter at @UKSwimDive and Facebook at Facebook.com/UKSwimDive.