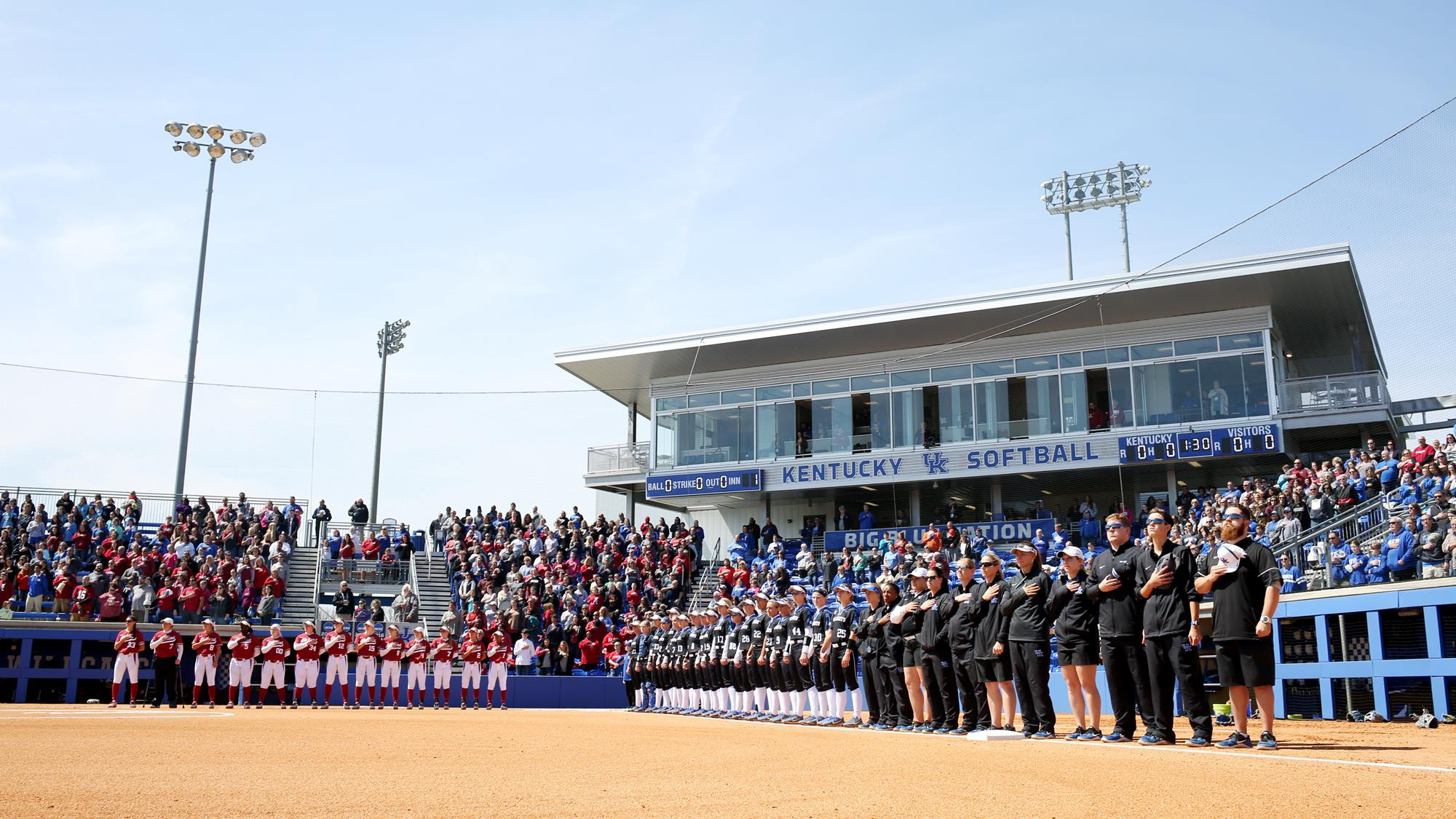 Dec. 5, 2014
LEXINGTON, Ky. – John Cropp Stadium, home of the University of Kentucky softball team, has been named collegiate softball's Field of the Year by the Sports Turf Management Association.
John Cropp Stadium, which is managed by UK sports turf assistant manager Eric Harshman along with UK sports turf director Marcus Dean, associate director Tommy Davis, technicians Josh Barnes and Chuck Stivers, and mechanic Dave Thomas, has been the home of the Wildcats since the spring of 2013. During that stretch, JCS has hosted two NCAA Regionals and the 2013 Southeastern Conference Tournament.
"I have traveled all across this country as both a player and coach and seen some great softball fields, but none better than what Eric, Marcus, Tommy, Josh, Chuck, Dave and their student assistants provide us with here at Kentucky," UK softball head coach Rachel Lawson said. "Day in and day out, no matter the weather conditions, they make sure we have a top-notch playing surface and everything we need to be successful. It is not a coincidence the two years we have played in John Cropp Stadium are the two most successful years in our program's history. I cannot thank them all enough for everything they give our student-athletes."
Completed and dedicated on April 13, 2013, John Cropp Stadium is a $9.5 million facility with a capacity of 1,500. Complete with perennial ryegrass, the dimensions are 200 feet down the rightfield and leftfield lines and 220 in centerfield.
"This is a team award for everyone on our staff and shows the high level of dedication and professionalism that our crew displays every day to all of our facilities," Dean said. "It's rewarding to our entire staff to know the hard work they put in to overcome the roughest winter in 30 years helped our softball team break numerous school records and have such a banner season. That commitment from my staff wouldn't be possible without the support from Mitch Barnhart and many others who recognize the importance of sports turf and its impact on the student-athlete experience. I could not be prouder of the work Eric, Josh and our entire staff achieve each day to help make UK a very special place."
A panel of 11 judges independently scored entries based on playability, appearance of surfaces, utilization of innovative solutions, effective use of budget and implementation of a comprehensive agronomic program. Judges may not award a field in each category. Winning fields will be featured in a 2015 issue of Sports Turf Magazine.
 "I am extremely honored and privileged to work with a talented group of individuals who dedicate themselves relentlessly to give our student-athletes the best playing field possible," Harshman said. "The crew showed a great deal of perseverance this past season with the numerous weather challenges that we faced early in the season. A lot of hard work and dedication from many made this award possible."  
Awards will be presented at the 26th STMA Conference & Exhibition in Denver on Jan. 13-16, 2015. Nearly 1,200 leaders in the sports turf industry will converge on the Colorado Convention Center for more than 75 hours.
For the latest on the Kentucky softball team, follow @UKSoftball on Twitter or Kentucky Softball on Facebook.