RUPP ARENA
430 W Vine Street
Lexington, Ky 40507
ADMISSIONS & ENTRY
Doors will open 1 hour prior to the first serve
All patrons entering Rupp Arena must have a valid ticket or credential to gain admission
Rupp Arena will utilize walk through metal detectors at events.

Patrons will be requested to remove items like cell phones, keys, bags/purses and large metal objects that may set off the alarm, thus requiring further inspection.
ALCOHOL
Alcohol will be served at select concession stands

Alcohol sales will end at the conclusion of the second set

Or no later than 75% of the way through the events regulation length

Alcoholic beverages include beer and seltzers

Patrons are not permitted to bring in any outside alcoholic beverages, nor are they permitted to leave the building with alcohol purchased inside Rupp Arena.
All alcohol purchases must be accompanied by a valid state issued driver's license or ID, Passport or Military ID. You must be 21 years of age to purchase any alcohol.
Service of alcoholic beverages is limited to two (2) drinks per person, per purchase.
CLEAR BAG POLICY
All bags must adhere to the UK Athletics Clear Bag policy. All bags and items will be searched. To avoid additional touch points, fans are strongly encouraged to not bring unnecessary bags to Rupp Arena.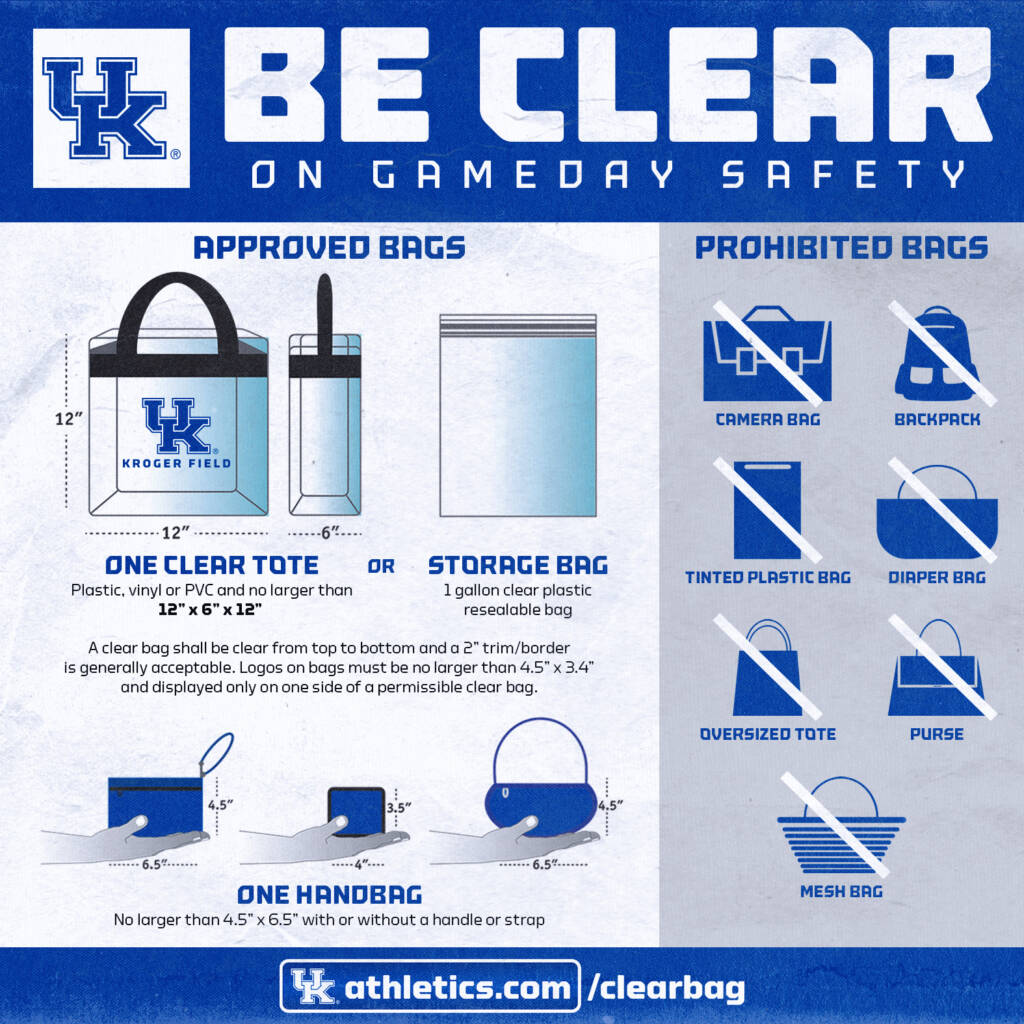 CONCESSIONS
Concession stands are located on the Main and Upper Concourses of Rupp Arena
Concession locations are opened based on projected attendance at each Arena event
No outside food or drink is permitted inside Rupp Arena
Rupp Arena does not accept cash as a form of payment for concessions

Acceptable forms of payment include all major credit cards (American Express, Discover, MasterCard and Visa) and mobile payments (Apple Pay, Google Pay and Samsung Pay)
LOST & FOUND
Lost & Found items will be turned into UK Event Staff or Rupp team members in match. Following the match, all items will be turned over to the UK Police Department, 859.257.1616
PARKING
The High Street Gate 2 parking lot opens 3 hours before first serve. It is directly across from Rupp Arena
Vehicles which park in the designated accessible parking ​spaces must display either a temporary hang tag or a permanent state license plate with the ​accessible parking notations.
Patron's parking in the lot must show their game ticket or UK employee ID for entry into the lot
All parking in these spaces is on a first come, first served basis.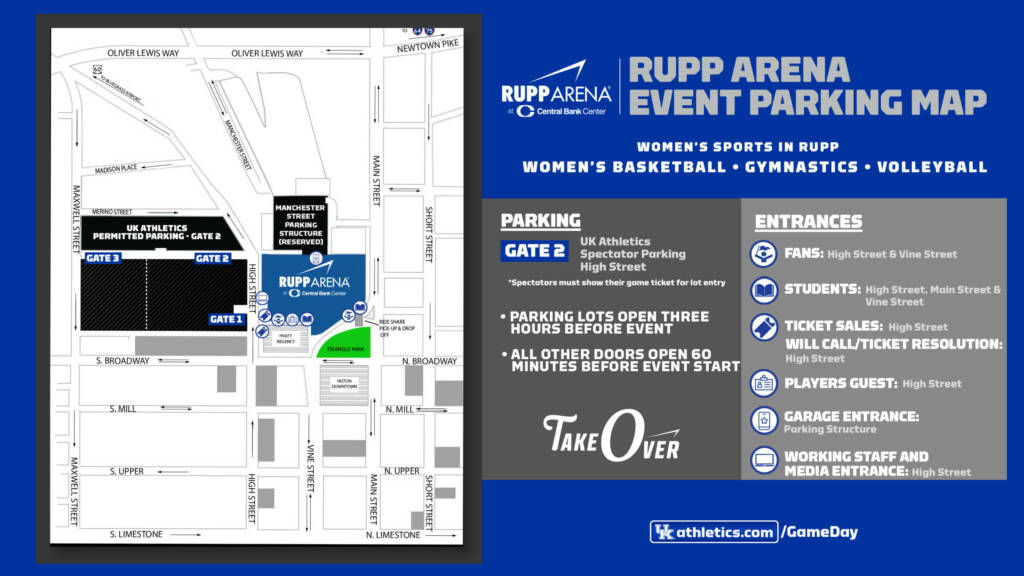 PROHIBITED ITEMS
Prohibited items will still be enforced.

Prohibited Items 
Outside Alcohol
Animals (with the exception of service dogs)
Artificial Noisemakers
Backpacks
Chairs/Stools
Combustible Heaters
Firearms
Flash Cameras
Ice/Ice Chests
Large bags – nothing larger than 12" x 6" x 12"
Smoking
All weapons, including firearms, carried either concealed or openly are prohibited items at Rupp Arena per KRS 237.115. Anyone in violation of this will not be granted entrance into Rupp Arena

Walk-through metal detectors will be in use upon entry

Prohibited Items – Must be approved by UK Athletics prior to entering the facility
Banners
Flags
Poles/Extensions
Signs
Noisemakers
PROGRAMS
Programs are available digitally, via QR codes on the concourse
TICKETS & SEATING
The Ticket Office will be located within the High Street entrance of Rupp Arena and opens 1 hour prior to the first serve and closes after the second set of the match.
The player/guest entrance is the High Street entrance of Rupp Arena.
Tickets will be issued via mobile delivery. Ticket holders will access their tickets on their phones and can transfer them electronically to other members in their party when necessary.
Spectators will be strongly encouraged to save their mobile tickets in their smart phone's digital wallet prior to arriving at Rupp Arena.
FAQs and resources to learn more are available at UKathletics.com/mobiletickets.
Single-Match Ticket Prices

Premium Reserved – $12
Reserved – $10
General Admission (Adult) – $8
General Admission (Youth and Senior; ages 6-18, 65+) – $5
Children 5 & younger – free in General Admission sections

The Backrow is the official booster program of Kentucky Volleyball. Backrow members support the volleyball program through game attendance, community visibility and financial contributions. Our student-athletes are continually encouraged and supported by Backrow members. Learn more about floor seating options and the Backrow online at UKathletics.com/Backrow.
Rupp Arena Seating Chart (PDF)
TEXT ASSIST
To report a non-emergent issue or ask a question, please text RUPPUK and your message to 69050 to begin a conversation with a UK Athletics Staff Member.