UK Athletics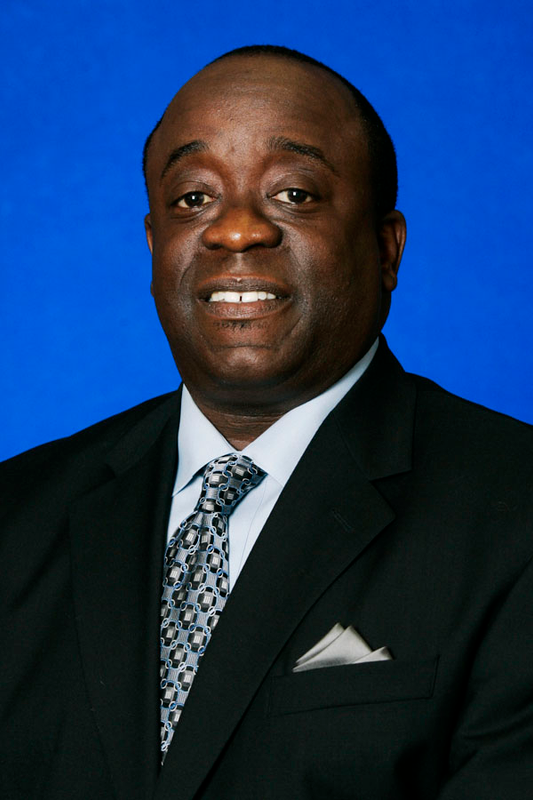 Veteran administrator and coach Ray "Rock" Oliver serves the UK Athletics Department as Executive Associate Athletics Director for Diversity, Equity and Inclusion.
"With Rock's background in coaching, combined with his administrative experience, he bridges many areas and will be a valuable member of the executive leadership team," Barnhart said upon announcing Oliver's promotion.  "He understands what student-athletes need. He has great relationships on campus and is passionate about helping lead our diversity initiative."
In addition to his role on Barnhart's executive staff, Oliver is co-chair of UK Athletics' Diversity Advocacy Committee and administrative liaison for the nationally-ranked men's tennis program.  For the last five years, Oliver has been UK Athletics' Director of Student-Athlete Engagement and Development. Prior to that, he was strength and conditioning coach with Wildcat football from 2010-12 and men's basketball from 2013-15. His first stint at UK was 1989-92 as the strength and conditioning coach with men's basketball.
"I left Kentucky after working with the Unforgettables and I spent 20 years trying to get back," Oliver said. "My family and I consider Kentucky home and I'm honored to have the confidence of Mitch Barnhart as I undertake my new responsibilities."
Oliver, a Cincinnati native, is in his fourth decade working with college and professional athletes.
He's an alumnus of the prestigious Sports Management Institute, where Barnhart is also an alum. Oliver also has a certification from the University of Pennsylvania Wharton Business School's Athlete Development Certification Program.
He has worked on and off with UK men's basketball coach John Calipari since 1983 when they were volunteer coaches at the University of Kansas. Before they re-united at Kentucky, Oliver also worked with Calipari at the University of Pittsburgh and the University of Memphis, as well as heading up Calipari's strength program with the NBA's New Jersey Nets.
Oliver became the second African-American head strength coach in NFL history, following the Miami Dolphins' Junior Wade, when Oliver headed up the Tampa Bay Buccaneers' weight room. He is a graduate of the Bill Walsh NFL Minority Coaching Fellowship with two different teams. From 2004-2009 he returned to his hometown as the Cincinnati Bengals' associate strength coach when they re-emerged as an NFL playoff contender under head coach Marvin Lewis.
Oliver was a defensive back at Ohio State from 1980-81 before transferring to the University of Cincinnati. While sitting out the 1982 season as a transfer, he became interested in strength training under then-UC Coach Mike Gottfried. When Gottfried moved to the University of Kansas in 1983, Oliver transferred to Kansas and began working as a strength and conditioning coach while completing his degree. He later earned his master's in athletic administration from Western Kentucky.
Read more