UK Athletics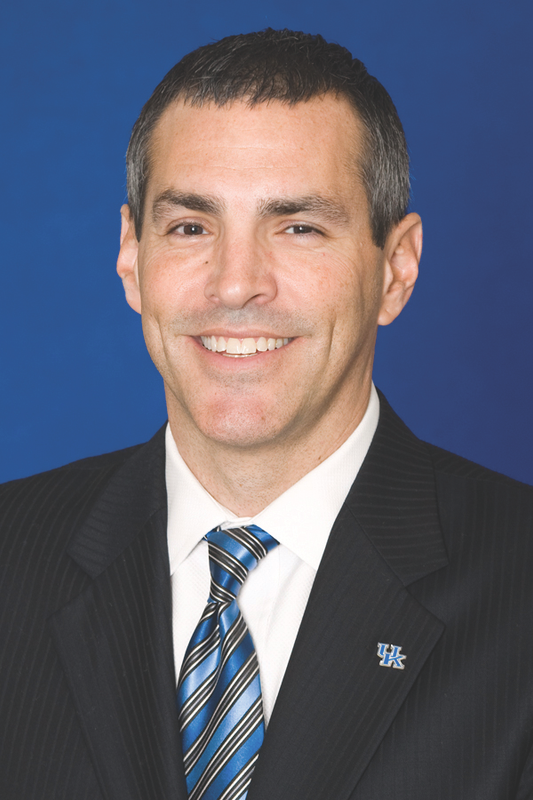 Entering his eighth season in 2016, UK head women's soccer coach Jon Lipsitz has continued to develop the culture it takes to build a championship program from the ground up. In doing so, fans have had an opportunity to see the team grow right before their very eyes as the program begins its inaugural year at the Wendell and Vickie?Bell Soccer?Complex.
The Wildcats in 2012 won the first-ever NCAA Tournament game in the program's history under the guidance of Lipsitz, all while finishing fourth in the overall table of the SEC. A year later in 2013, Lipsitz again helped lead?UK back to the NCAA Tournament, as the Wildcats topped Ohio State to advanced to collect the program's second-ever?NCAA Tournament win in back-to-back seasons.
The Wildcats continue to set program records, and earn all-conference awards as Arin Gilliland was placed on the All-SEC First Team in 2013, with freshman Zoe Swift earning All-Freshman Team honors, and Stuart Pope along with junior?Cara?Ledman making the All-SEC Second Team.
Under Lipsitz the past two of the last three seasons, UK has finished the regular season in the top five of the SEC, and earned two All-America honors.
"The state of the program from when we took over five years ago is unrecognizable. It is a tribute to the staff and players of the past five years. We are in a position now where we are very proud of our culture, we are very proud of our success, but we are still hungry for more."
In 2012, he helped guide the Wildcats to one of the most historic seasons in program history as the Wildcats hosted an NCAA Tournament game and finished the SEC portion of the schedule with a winning mark for the first time since the 2006 season. After after a two-year absence from the SEC?Tournament from 2007-09, Lipsitz has led Kentucky back to Orange Beach (eight-year home of the SEC?Tournament) four-straight years.
On Dec. 16, 2008, Lipsitz became the second head women's soccer coach in University of Kentucky history. Lipsitz, who owns a career record of 157-70-19 (.681) in 12 seasons, came to Lexington after spending four seasons as the head coach at Charlotte where he guided the 49ers to a 58-23-4 (.706) record including three straight Atlantic 10 titles in 2006, '07 and '08. Each season, Charlotte increased their win total, going from 11 in 2005, to 13 in 2006, to 16 in 2007, to a school record 18 in 2008.
In his four seasons at Charlotte, he guided the 49ers to 34 A-10 wins with a Carolinas' Cup title, three A-10 regular season titles, two A-10 Tournament titles and two NCAA Tournament appearances. The 49ers' success on the field during Lipsitz's tenure translated into recruiting success, as well.
While in Charlotte, he also coached seven Academic All-Americans and two athletic All-Americans. In 2007, Lipsitz was named Atlantic 10 Coach of the Year after leading the 49ers to 16 wins and a school-record nine Atlantic 10 wins en route to the program's third-ever bid to the NCAA Tournament. The 49ers captured their second straight A-10 regular season title which was the fourth regular season championship in the program's history. Charlotte also won their first A-10 Tournament Championship when they captured the title with a victory over Fordham. Lipsitz and the 49ers continued their momentum through the 2008 season where they finished with a school record 18-4-1 mark including a perfect 11-0 mark in conference play. The team won their second straight A-10 tournament title and capped the magical season with an NCAA second round appearance, defeating the Tennessee Lady Vols 2-0 in the first round. The 49ers finished the 2008 campaign ranked fifth nationally in scoring (3.00) and 19th in shutout percentage (56.5).
Before taking over the 49ers women's soccer program, Lipsitz spent four seasons (2001-04) as an assistant coach for national-power Ohio State. During his four seasons with the Buckeyes, he was the chief recruiter for a program that won 52 games, two Big Ten Tournament titles and made three straight trips to the NCAA Tournament. In 2004, Ohio State won a school-record 19 games en route to an NCAA Tournament Elite Eight appearance. His efforts produced nationally-ranked recruiting classes, including players that earned freshman All-America honors in each of his last two seasons in Columbus.
Prior to his time at Ohio State, Lipsitz spent three seasons at NCAA Division III Denison University where he tallied a 43-10-4 record in three seasons.
No stranger to the UK women's soccer program, Lipsitz served as the Director of Coaching and Player Development for the Ohio PremierGirls' Soccer Club from 1993 to 2005, which produced former Kentucky standouts Annie Gage and Elizabeth Ramsey, as well as 2008 seniors Tara Herold and Kristin Kover.
Lipsitz has also served as a Regional Staff Coach for Region II and III Olympic Development Program, as well as the 1991 North Carolina ODP Head Coach. He holds the United States Soccer Federation "A" license.
The Chapel Hill, N.C., native graduated with a Bachelor's of Science degree in Business Administration from the University of North Carolina in 1993. He earned a Master's of Education from Ohio State in 1998. Lipsitz and his wife, Kathryn, have two sons Zachary (17) and Max (10).
??
| Year | School | Season | Conference | Postseason |
| --- | --- | --- | --- | --- |
| 1990 | Denison | 13-4-2 | 5-1-2 | |
| 1991 | Denison | 14-3-1 | 6-2-0 | |
| 19921 | Denison | 16-3-1 | 7-0-1 1 | NCAA D3 Tour. (Elite Eight) |
| 2005 | Charlotte | 11-9-0 | 6-3-0 | A-10 Semifinals |
| 20062 | Charlotte | 13-5-2 | 8-1-0 2 | A-10 Semifinals |
| 2007 | Charlotte | 16-5-1 | 9-1-1 | NCAA Tournament |
| 20083 | Charlotte | 18-4-1 | 11-0-0 3 | NCAA Tour. (2nd Rd.) |
| 2009 | Kentucky | 5-10-4 | 2-8-4 | |
| 2010 | Kentucky | 10-7-3 | 4-5-2 | SEC Tournament Quarterfinal |
| 2011 | Kentucky | 13-7-1 | 6-5-0 | SEC Tournament Quarterfinal, NCAA Tournament First Round |
| 2012 | Kentucky | 14-7-1 | 8-4-1 | SEC Tournament Quarterfinal, NCAA Tournament Second Round |
| 2013 | Kentucky | 14-7-1 | 7-5-0 | SEC Tournament Quarterfinal, NCAA Tournament Second Round |
| 2014 | Kentucky | 16-7-1 | 8-3-1 | SEC Tournament Runner-Up, NCAA Tournament Sweet 16 |
| 2015 | Kentucky | 9-7-4 | 3-5-3 | SEC Tournament Opening Round |
| 14 Years | | 184-85-23 | 91-43-16 | |
1 NCAC Conference Champions; 
2 A-10 Regular season champions; 
3 A-10 regular season champions; A-10 Tournament champions
Lipsitz by the Numbers
Overall record: 184-85-23 (.694)
Home record: 106-27-15 (.804)
Away record: 61-44-7 (.562)
Neutral record: 15-14-1 (.584)
Conference record: 91-43-15 (.725)
Conference home record: 38-15-5 (.721)
Conference road record: 34-23-4 (.609)
Conference Tournament record: 7-9-1 (.427)
Coaching History
Kentucky Head Coach 2009-pres.
Charlotte Head Coach 2005-08
2007 A-10 Coach of the Year
Three Atlantic 10 Titles
Two NCAA Tournaments
Ohio State Assistant Coach 2001-04
Won 52 games
Two Big-10 Titles
Three NCAA Tournaments
2004 NCAA Elite Eight Appearance
Columbus Ziggx (W-League) Head Coach 1998-2001
Dir. of Coaching and Player Development for the Ohio Premier Girls' Soccer Club 1993-2005
12 players named to national pools
21 state championships
Denison University Head Coach 1990-92
Won 43 games
1992 NCAA Division III Elite Eight
Read more