UK Athletics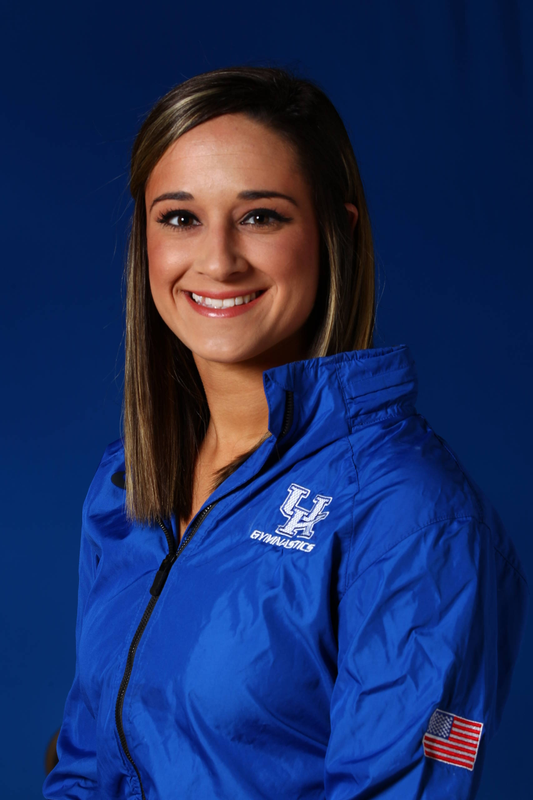 2014, 2015 SEC Academic Team
2013 All-SEC Team
SEC Specialist of the Week – March 18, 2013
2015 (Senior): Named a team captain for the 2014-15 season, along with fellow senior Kayla Hartley … Competed on vault, bars and beam in Kentucky's first two meets in 2015 before she missed the remainder of the season after an injury prior to UK's third meet … Was named to the 2015 SEC Academic Team for the second consecutive season … Recorded a 9.775 on both vault and bars in the Wildcats' season-opener at Washington and again a week later at home on Excite Night.
2014 (Junior): Suffered an injury in the fall and did not compete in 2014 … Named to the 2014 SEC Academic Team for the first time in her career.
2013 (Sophomore): Emerged as one of UK's vocal leaders and backed it up with her performances throughout the season … All-SEC selection on uneven bars … SEC Specialist of the Week on March 18 after she won bars and beam with career high scores on both events to lead UK to a school-record team score at Penn State … Beam score of 9.95 was third-highest in school history … Competed in three events seven times throughout the season, and also competed in the all-around at NCAA Regionals … Went over 9.8 on both bars and beam at National Champions Florida.
2012 (Freshman): Stellar freshman campaign, participating in all 13 meets, including 10 as an all-around gymnast … Ended the season with a high score of 9.775 on vault and uneven bars, 9.825 on balance beam and 9.8 on floor exercise … Highest all-around score was a 39.0 at Illinois … Led Kentucky on beam in one meet with a 9.75 at Arkansas … Was the vocal leader of the team … Averaged over a 9.65 on every event with a 9.65 on vault, 9.665 on bars, 9.654 on beam and 9.721 on floor … Third on the team in beam average … Second on the team in floor average … Earned her career high on floor twice with 9.8s against Auburn/Pittsburgh and George Washington/Ball State … Only freshman to compete in at least three events in every meet … Guided UK to three of the top 15 team scores on beam in school history (48.975, 49.0, 49.05).
Pre-College: Competed at Docksiders Gymnastics Club under coach Bob Ouellette … Was named to the 2011 Maryland State Team after a solid performance at the Maryland State Championships … Won the Level 10 all-around title at the championships, while also finishing first on uneven bars, second on balance beam and floor exercise, and tied for fifth on vault … Competed in the 2011 Region Seven Championships, finishing first in bars and fourth in the all-around competition and in vault and floor.
Personal: Full name is Alexis Larue Gross … Parents are Mark and Cyndi Gross … Graduated from Archbishop Spalding High School … Native of Pasadena, Md. … Has one sibling, a young brother named Jordan, who is 16 … Plans on majoring in engineering.
Career Highs:
Vault: 9.775, twice, last on March 2, 2012 at Illinois
Uneven Bars: 9.900, March 16, 2013 at Penn State
Balance Beam:9.950, March 16, 2013 at Penn State
Floor Exercise:9.800, four times, last on March 23 at the SEC Championships
All-Around: 38.975 on Feb. 3, 2012 at LSU
Read more