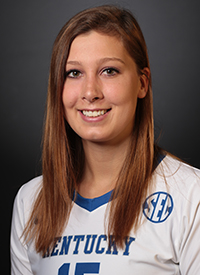 15
Brooke

Morgan
position

Middle Blocker

height

6-5

class

Senior

Hometown

Dike, Iowa

High school

New Hartford
2017 (Junior): Started six matches and appeared in 22 … Matched season high with 12 kills on .579 attacking clip in NCAA Tournament win over BYU (12/8) … Had 24 kills in NCAA Tournament … Registered 98 total kills … Logged 40 total blocks in 2017 … Added 19 digs … Hit .306 … Also had 12 kills against Northern Iowa (9/2) … Tied a career high with six blocks against Louisville (9/15) along with four kills.
2016 (Sophomore): Played in 91 sets over 27 matches, starting 25 … Logged 146 kills, 73 blocks, and 22 digs during her sophomore season … Her 146 kills were good for fifth on the team, averaging 1.60 kills per set … Notched seven matches with eight or more kills and four matches with 10 or more kills … Led team in hitting percentage three times and in blocks twice … Hit double-digit kill matches against Marquette, Mississippi State, at South Carolina and Texas A&M … Hit .643, a season high, vs. Creighton while recording nine kills … Charted nine terminations against rival Louisville … Recorded at least three blocks in 10 straight matches … Tied a career-high in blocks in win at Florida in just three sets … Picked up five blocks at Mississippi State, also added six kills … Charted career best four digs at South Carolina, also added 10 kills. 

2015 (Freshman): SEC All-Freshman team … Three-time SEC Freshman of the Week (9/28, 10/12, 10/26) … Played in 92 sets over 27 matches including 15 starts … Logged 195 kills, 69 blocks, 23 digs and an assist … Her 195 kills good for fourth on the team … Notched eight or more kills in 14 matches, double-figure kills in six matches … Led the team in kills in three matches … Posted a season-best 13 kills on .500 hitting in Kentucky's upset of Florida (9/27) … Matched the career mark against Auburn (11/27) while adding five blocks … Hit a season-best .700 at Alabama (10/23) with seven kills and three blocks … Earned first ever SEC Freshman of the Week award after the opening weekend of SEC play, combining for 20 kills, three digs and two blocks against South Carolina (9/25) and Florida (9/27) … Second SEC Freshman of the Week award followed nine kills on .353 hitting and four blocks in Kentucky's 3-0 sweep of Arkansas (10/7) … Third weekly freshman honor came following a .520 hitting performance for 15 kills and nine blocks in two sweeps on the road against Alabama (10/23) and Ole Miss (10/25) … Recorded five our more blocks in four matches … Posted two career-best, six block matches, both in three set matches –  first against Illinois (9/11) before matching it at Ole Miss (10/25) … Played a critical role the win over Alabama (10/4) with 12 kills on .450 hitting and three blocks … Had eight kills on .333 hitting in NCAA postseason debut against American (12/4).
High School: Hails from Dike, Iowa, and is considered the No. 12 player in her class by PrepVolleyball.com …. A member of the Volleyball Magazine Fab 50 … A 6-5 middle blocker and a four-time state champion … Twice tabbed an All-State selection … An all-around athlete, she also garnered all-conference accolades as a standout basketball player and track athlete … Played club volleyball with Nike Six-Pack and led her team to the 2012 under-16 national championship at the USAV Junior National Championship … A two-time Academic Excellence Award winner.
Read more