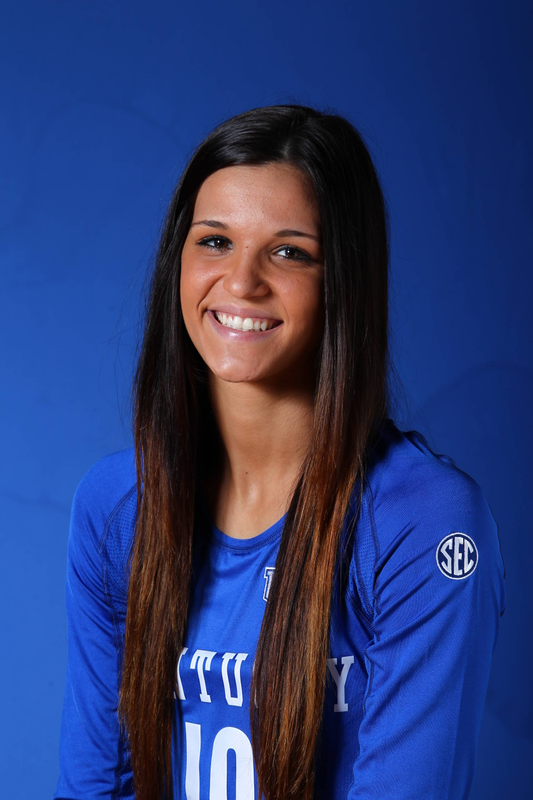 10
Shelby

Workman
height

6-1

class

Junior

High school

Bishop Miege
2014 (Junior): Played in all 33 matches with 30 starts … Had 327 kills, 222 digs, 38 blocks, 40 assists and 14 aces and was third on the team in kills, digs and assists … Led UK in kills a team-high-tying 13 times and in blocks once and posted her first two double-doubles of her career … Posted a team-high 14 kills with six digs, a pair of blocks and two assists in the second round of the NCAA Tournament … Had nine digs with a career-high-tying four blocks vs. Arkansas … Led the Wildcats with 12 kills to go along with five digs and an assist vs. Florida … Recorded 11 digs and seven kills with a career-high-tying two aces at Texas A&M … Notched a team-high 12 kills with nine digs at Arkansas to post double-digit kills for the fourth consecutive match and the seventh time in her last eight contests … Posted 13 kills, nine digs and a career-high four assists vs. LSU … Exploded for 19 kills on a career-high .459 hitting with 10 digs vs. Alabama for her second career double-double … Had 15 kills on .433 hitting with four digs and two blocks vs. Lipscomb before she had a career-high 13 digs with nine kills the following night vs. Xavier … Posted 15 kills and nine digs with a pair of aces at North Carolina … Notched a career-high 21 kills, including a program-record 13 in the third set alone, and added 12 digs for her first career double-double in UK's win at Louisville … Had 18 kills and six digs with two blocks vs. Northern Iowa en route to earning Commonwealth Classic All-Tournament Team accolades.
2013 (Sophomore): Played in all 31 matches for UK with 10 starts … Recorded 109 kills with 89 digs and five service aces in 2013 … Had a career-high-tying two assists at Mississippi State with three kills … Posted 11 kills, with seven coming in the final two frames, in a win over LSU … Registered six kills at Missouri … Notched her first career service aces with two at Auburn to go along with eight kills and 10 digs … Struck for nine kills and added five digs in a win over Morehead State … Recorded 11 kills and seven digs against Louisville … Had two blocks against Liberty … Posted seven kills and six digs in UK's win over VCU …Notched a career-high 13 kills in the sweep of Long Beach State … Totaled a career-best 11 digs against Illinois.

2012 (Freshman):Saw action in 25 contests in her first season with the Blue and White … Tallied 19 kills, two assists, 33 digs and four blocks … Tallied five digs and a kill in a win over North Carolina … Had a kill in a win over Duquesne … Posted a season-high nine digs in a loss to Oklahoma … Totaled a career-high six kills at LSU … Had a team-high two blocks in a win over Auburn … Logged a pair of kills in a win over South Carolina … Had a kill and a dig against Arkansas … Smashed the match-clinching kill in a win over Georgia … Had a kill and a block assist in her first NCAA Tournament action against ETSU.
High School: Two-time Kansas 5A Player of the Year and was named among the All-State tournament team in all four seasons of action … High school squad claimed the state title in all four seasons … Rated as one of the top-65 players among PrepVolleyball and was an All-America selection … ESPN also ranks her as one of the top-25 seniors in the nation … Charted 353 kills and 268 digs in her senior campaign … Also added 59 blocks and 36 service aces.
Read more