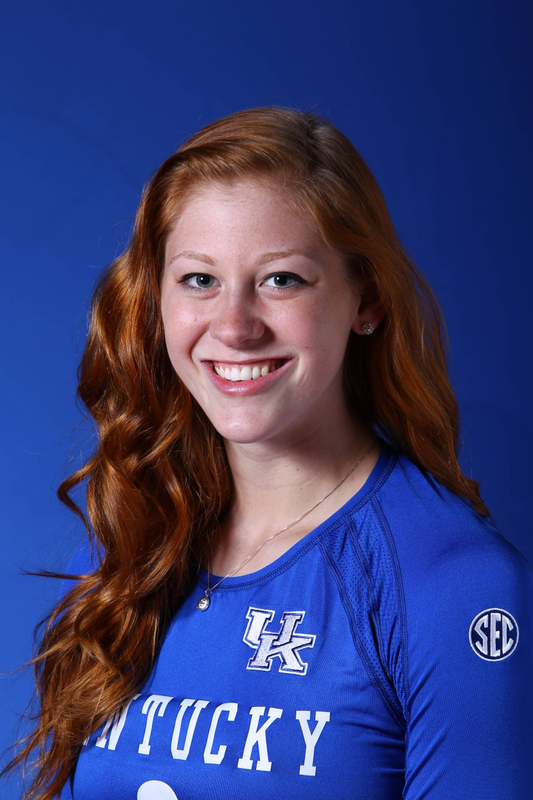 9
Sara

Schwarzwalder
height

6-3

class

Senior

High school

North Royalton
2012 All-SEC Freshman Team
One-time SEC Weekly Award Winner
Three-time All-SEC Academic Team honoree
2015 (Senior): Saw action in 12 matches and 23 sets, including four starts … Ended the season with 33 kills, 15 blocks, four digs, two assists and two aces … Finished career with the 10th-best hitting percentage all-time (.289) … Started in place of Emily Franklin in UNI Tournament (9/4-9/5) … Earned a season-best 10 kills along with three blocks against Northern Iowa (9/4) … Match was one of three three-block games, a season best … Put up a season-best .400 hitting with five kills on 10 attempts against Southern California (9/5) … Came off the bench during SEC play as a role player in five matches before starting against Auburn in regular-season finale … Provided the match-winning kill in the 15-13 fifth set in the season finale against Auburn (11/27) … Finished the match with five kills, and three blocks … Added a kill in the NCAA tournament first round match with American (12/4).
2014 (Junior): Played in 32 matches as a junior with 27 starts … Recorded 182 kills on .337 hitting with 91 blocks, all ranking in the top four on the team in 2014 … Earned SEC Defensive Player of the Week accolades on Oct. 13 for the first time in her career and was named to the All-SEC Academic team for the third consecutive season … Led the team in blocks 14 times and posted five or more blocks on six occasions … Had a team-best eight blocks to go along with five kills and a dig in the NCAA Tournament vs. Ohio State … Posted seven kills on .500 hitting with two digs vs. Missouri … Notched her first career ace vs. Tennessee in addition to posting five kills and two blocks … Recorded 10 kills on a career-best .769 hitting with three blocks at Georgia … Had a career-best 11 blocks, a program record in a three-set match, with nine kills vs Auburn and earned SEC Defensive Player of the Week accolades … Posted 10 kills on .643 hitting with a pair of blocks and one dig at South Carolina … Had 10 kills and a block vs. Georgia Southern and notched eight kills and eight kills at North Carolina to earn Carolina Classic All-Tournament Team honors … Recorded eight kills and six blocks vs. Creighton … Notched a career-best 11 kills on .429 hitting with five blocks vs. Virginia Tech.
2013 (Sophomore): Earned All-SEC Academic team honors … Played in 27 of UK's 31 matches with 26 starts … Was second on the team with 95 blocks and notched 143 kills and hit .299 in 2013 … Hit .545 with seven kills against Missouri … Had five kills with six blocks against Texas A&M … Registered a career-best nine blocks at Arkansas … Posted eight blocks with 10 kills against Alabama … Notched a career-best 14 kills at Georgia … Recorded five kills and five blocks at South Carolina … Led the team with five blocks against Tennessee … Recorded seven kills for a .312 hitting clip with six blocks at Alabama … Had a team-high-tying three blocks and five kills against Morehead State … Posted eight kills with a season best .700 hitting clip at Lipscomb … Dished out three assists against Minnesota, the first of her career … Had seven kills with a .316 hitting mark against Louisville … Posted nine kills against VCU … Notched seven kills, seven blocks and a career-high tying two digs against Illinois.

2012 (Freshman):Earned All-SEC Freshman team honors in her first season at UK … Played in 30 matches while earning 25 starts … Averaged 1.51 kills and 0.87 blocks per set … Had a career-high 10-kill performance in a win over Duquesne … Turned back eight opponent attacks on three occasions including at Arkansas … Had eight blocks in a win over Lipscomb, registering the most for a freshman in one match since 2010 … Had seven kills and three blocks at Louisville … Led UK with six blocks vs. Ohio … Notched a career-high 10 kills on a near-flawless performance with no errors and a .769 attacking clip in a win over Duquesne … Tallied eight kills and five block assists against Nebraska … Had eight kills and five block assists in win at Texas A&M … Had six kills and four blocks in a win over No. 25 Tennessee … Racked up seven kills and .667 against Texas A&M … Had nine kills in a win at Tennessee … Had seven kills and a team-high eight blocks in win at Georgia … Pounded out seven kills in three-set win over?Ole Miss … Picked up seven kills and hit .667 for the match in win over USC … Notched nine kills on a match-high .643 hitting clip at Alabama … Earned season-high eight blocks in loss at Arkansas.
High School: Rated as the nation's No. 61 recruit by PrepVolleyball … Garnered All-Ohio second team status in 2011 as well as earning The Post's first-team honors in 2010 … Tabbed the North Coast Power League most valuable player as a senior … Earned second-team Under Armour All-America honors … Registered 260 kills and 53 blocks in her senior season … Also posted 116 digs and 48 service aces.
Read more