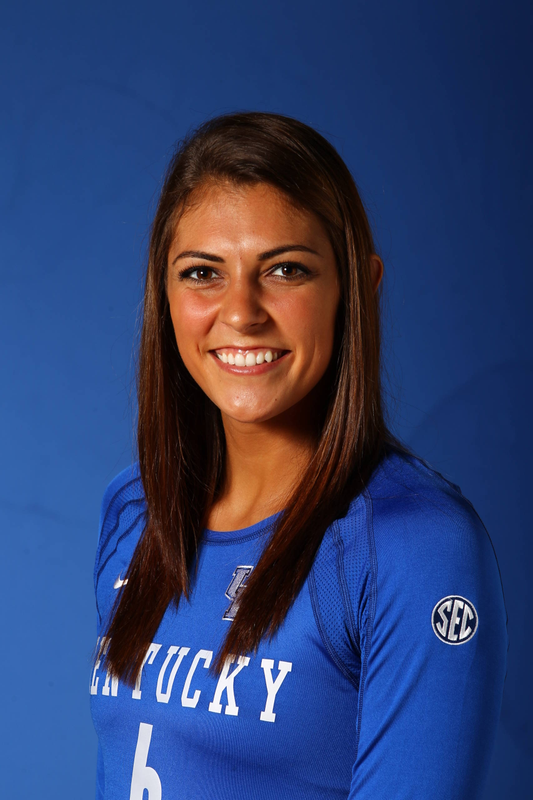 6
Morgan

Bergren
height

6-1

class

Senior

Hometown

Muncie, Ind.

High school

Delta
2014 AVCA All-America Second Team
2015 AVCA All-America Honorable Mention
2015 CoSIDA First-Team CoSIDA Acdemic All-America
Two-Time AVCA All-Southeast Region First Team (2014, 2015)
Two-Time All-SEC Team (2014, 2015)
Four-time SEC Weekly Award winner
Three-time All-SEC Academic Team honoree
Frank G. Ham Society of Character Inductee
2015 (Senior): AVCA All-America Honorable Mention … AVCA All-Region … All-SEC … First ever Kentucky volleyball player to earn First Team CoSIDA Academic All-America honors … CoSIDA Academic All-District … Senior CLASS Award First Team recipient … Named to SEC Community Service team … Earned SEC Player of the Week and Setter of the Week honors in same week (10/12) … Named to Bluegrass Battle All-Tournament team … Started in every match, playing 111 sets total … Became fifth Kentucky player to log 3,500 career assists, finishing her career with 3,814 which ranks first in 25-point rally scoring era and fourth all-time … Led team with 1,160 assists (10.45 per set) … Her 1,160 assists ranked seventh most in a season during the 25-point rally scoring era … Also logged 187 digs, 115 kills, 96 blocks and 17 service aces … Had a season-best 52 assists in the season opener against Michigan State (8/28) … Had four double-doubles on the season, setting a new career-high in digs against Missouri (11/15) with 43 assists and 14 digs … Led team in aces on five occasions including a season-high three at Auburn (10/16)  … Led team in blocks four times … Ranked first in blocks per set (0.91) among all SEC setters during the regular season … Ranked 11th in SEC in conference blocks per set with 1.05 … Her 96 block assists ranked 10th most in a single season during the 25-point rally scoring era … Had two six-block performances against Louisville (9/20) and Georgia (11/25) … Recorded five or more kills in 13 matches including a season-best seven kills at Auburn (10/16) … Earned SEC Player of the Week after posting 32 assists, 11 digs, five kills and three blocks against Arkansas (10/7) … Had 34 assists, five kills, five digs, two blocks and an ace against American (12/4) in the NCAA tournament first round. 
2014 (Junior): Earned second team All-America honors, to become the ninth Wildcat in program history to be named a first or second team All-American … Named to the AVCA All-Region team and the All-SEC team after she started every match for the Wildcats as a junior … Also earned All-SEC Academic team accolades for the third consecutive season and was inducted into UK's prestigious Frank G. Ham Society of Character … Dished out 1,291 assists, second in Kentucky's rally scoring era record books … Directed the UK offense to a league-best 14.25 kills-per-set and a .272 hitting percentage, second-best in the conference … Posted eight double-doubles, led the team in blocks eight times and kills once and ranked in the top three on the team in aces (28) and blocks (91) along with her team-best assists total and a team-best .420 hitting clip with 158 kills … Capped the season with 36 assists, seven kills, a career-high-tying six blocks and four digs in the NCAA Tournament vs. Ohio State … Posted her eighth double-double of the season with 33 assists and 10 digs in the NCAA Tournament vs. Oakland … Had 10 kills on 10 attempts for a program-record 1.000 hitting percentage vs. Arkansas while serving a season-high-tying two aces … Dished out 42 assists and added seven kills, seven digs and five blocks at Auburn … Notched 47 assists, nine digs, seven kills on .500 hitting with a pair of blocks vs. Georgia … Had a double-double with 42 assists and 10 digs at Texas A&M … Notched 50 assists, seven digs, six blocks and six kills vs. LSU … Earned SEC Player of the Week honors on Oct. 6 after she led UK to a .306 attacking percentage with six players averaging 1.29 kills per set or better in wins over Alabama and Texas A&M, while posting 43 or more assists in each win and adding 11 kills on .579 hitting herself … Had a career-best 11 kills on .550 hitting with eight digs and three blocks to go along with her 37 assists vs. Xavier … Set a career high with 13 digs vs. Georgia Southern … Set a program record in a four-set match with a personal-best 55 assists to go along with 11 digs in a win at Louisville … Posted back-to-back double-doubles, with 45 assists and 10 digs vs. Virginia Tech, followed by 52 assists and 10 digs vs. Northern Iowa.
2013 (Sophomore): Earned All-SEC Academic team honors … Started all 31 matches for UK … Led the Wildcats with 1,215 assists, was second on the team with 24 service aces to go along with 192 digs, 130 kills and 77 blocks … Tallied 40 assists 13 times in 2013 … Dished out 43 assists, along with five kills to hit .400 in the NCAA Tournament's First Round vs. Duquesne … Posted a career best 13 digs with 50 assists and five kills against Florida … Had five kills on .417 hitting with 42 assists and five blocks against Texas A&M … Notched a double-double with a career high 66 assists and 11 digs against LSU … Registered 48 assists with five digs and four kills at Arkansas … Recorded 47 assists against Alabama … Posted nine digs against Mississippi State … Notched seven kills, 48 assists and nine digs at Georgia … Dished out 40 assists with five digs and five blocks at South Carolina … Had a career-best three service aces against Tennessee … Posted a career-high-tying eight kills at Alabama with four blocks … Had 37 assists and eight digs at Auburn … Directed UK's offense to an above .500 hitting clip at Lipscomb … Posted 55 assists and 10 digs vs. Minnesota … Had 51 assists vs. Louisville … Notched eight kills against ETSU … Dished out 40 assists with six digs and five kills against Liberty … Had nine digs with five blocks against VCU … Recorded six kills and a .667 hitting percentage in UK's win at Long Beach State … Posted 50 assists against Illinois in addition to six blocks, second highest on the team.
2012 (Freshman): Saw action in nine matches, making four starts in her first season … Averaged 8.71 assists per set while also tallying 16 kills and 25 digs … Passed out 22 assists while adding three kills, three blocks and six digs in her first career action in a win over Duquesne … Made her first-career start against Oklahoma in the Ameritas Players Challenge … Posted 42 assists, four kills and seven digs against the Sooners … Recorded 47 assists, 10 digs, four kills and four block assists against Nebraska … Was named SEC?Freshman of the Week for the week of Sept. 10 … Had 18 assists against Florida … Passed out 13 assists and had a pair of kills in a set of action at LSU … Notched two assists and a kill in the win over ETSU in the NCAA Tournament.
High School: Ranks among the top-150 Senior Aces by PrepVolleyball … Helped guide her club squad to the AAU National Championship in 2011, and played in the championship again in 2012 … For her efforts during the title run she was tabbed the tournament's most valuable player, and is a two-time AAU All-America honoree … Aided her high school squad to a state championship in 2008 … Three-time All-State selection … An Under Armour All-America honorable mention selection … In addition to a staggering 429 assists, she also contributed 172 kills of her own during her senior campaign … Picked up 196 digs and served up 37 aces in her final season.
Read more