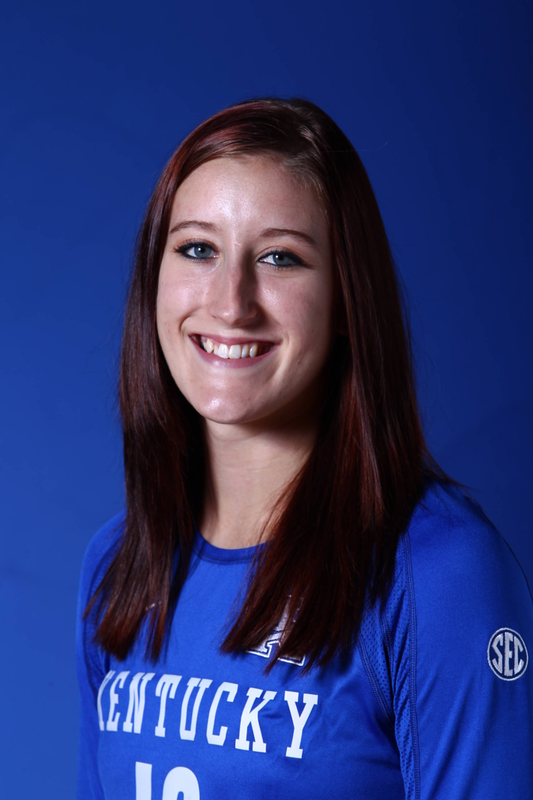 13
Kayla

Tronick
height

6-3

class

Junior

High school

Hutchinson
One-time All-SEC Academic Team Honoree
2014 (Junior): Played in 13 matches as a junior, including each of the season's final 12 contests … Posted 24 kills on .304 hitting to go along with 16 blocks and five digs … Was named to the All-SEC Academic team for the first time in her career … Had two blocks and one kill in back-to-back matches, in the regular-season finale vs. Arkansas and again in UK's NCAA Tournament first round win vs. Oakland … Recorded five kills, three blocks and two digs at Mississippi State, all season best totals … Posted four kills on .800 hitting with three blocks vs. Florida … Had five kills and three blocks vs. Ole Miss, the first of three consecutive matches with at least four kills and three blocks … Notched two kills on .400 hitting vs. Tennessee … Saw her first action of 2014 with one kill on .500 hitting vs. LSU.
2013 (Sophomore): Played in 14 of UK's 31 matches with five starts … Notched 19 blocks for a 0.54 blocks per set rate that ranked fifth on the team to go along with 41 kills in 2013 … Recorded six kills along with her first assist of the season and one block in the NCAA Tournament vs. Michigan State … Hit a season-best .500 with five kills, one dig and one block in the NCAA Tournament vs. Duquesne … Had a season best four blocks with three kills at Mississippi State … Made her first start of the season against South Carolina and notched nine kills on .353 hitting with three blocks, all season highs … Recorded three kills against Mississippi State for a .333 hitting clip … Notched a block against Ole Miss … Posted three kills, three digs and two blocks against Illinois.

2012 (Redshirt Freshman): Made seven starts in 15 matches played … Averaged 1.73 kills and 0.65 blocks per set … Posted career-highs of 10 kills and an .833 hitting clip at Ole Miss in her first career start … Saw her first career action vs. Ohio logging three kills … Tallied a kill and added a block in the win over Western Carolina … Pounded out four kills in a win over Auburn … Had 10 kills on a blazing .833 hitting clip in her first career start at Ole Miss … Tallied seven kills on .417 hitting clip in a win over Georgia … Posted six kills on .357 hitting and added a trio of digs in a win at Missouri … Tallied eight kills and a block in the win at Auburn … Struck for seven kills on .545 hitting and added three blocks in a win over ETSU … Had seven kills and two blocks in the win over Ohio State … Logged three kills and a block against Penn State in the NCAA Tournament.
2011 (Freshman): Did not see match action as a true freshman.
High School: Three-year letterwinner for Hutchinson High School … Squad finished as the state runner's up in her senior season … An All-State performer as a middle blocker … Tabbed as an AVCA/Under Armour All-America honorable mention … Owns Hutchinson's career record in blocks … Suited up for Hutchinson Area Elite club squad.
Read more