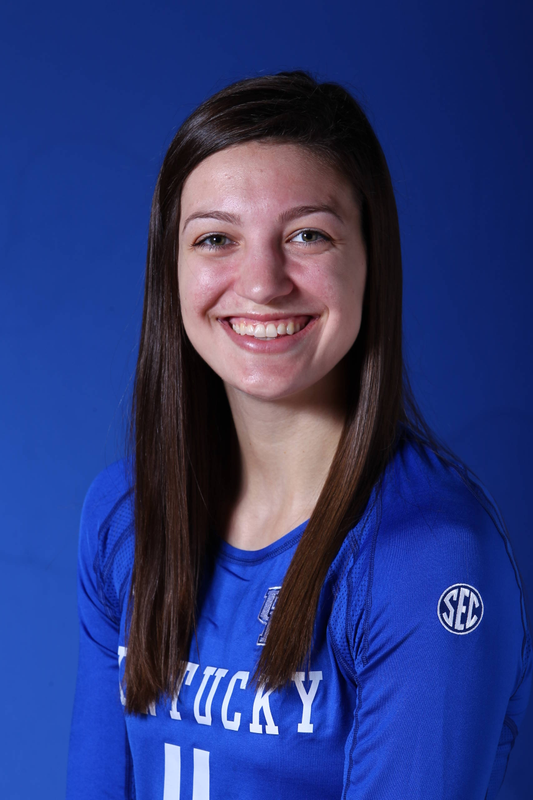 11
Emily

Franklin
height

6-4

class

Senior

Hometown

Mesa, Arizona

High school

Red Mountain
One-time SEC Weekly Award Winner
Two-time All-SEC Academic Team honoree
2016 (Junior): Started every match and played in all 106 sets … Finished the season with 122 total blocks, second-highest on the team … Averaged 1.14 blocks per set, good for sixth-best in the SEC … Led team in blocks 15 times … Led team in hitting percentage seven times …Finished the season with 200 kills, fourth-best on the team … Had three matches with 10 or more kills, including a season-high 12 at Purdue … Tied a career-high with 10 blocks at Ole Miss … Ripped 10 kills in win at South Carolina with a .600 hitting percentage … Recorded seven blocks in NCAA Tournament win over Colorado State … Recorded 10 matches with five or more blocks … Had two service aces against LSU and Texas A&M and three at Tennessee in consecutive matches … Added 59 digs … Had season-high five scoops at Auburn, one off her career-best.
2015 (Sophomore): Started in 27 of 28 matches played, appearing in 97 sets … Finished the season with 173 kills, 98 blocks, 48 digs, 27 aces and nine assists … Responsible for 254.0 points, good for fourth on the team …. Recorded seven or more kills in 11 matches, including three matches with double-figure kills … Set a career-best in kills with 13 along with four blocks when Kentucky hosted Florida (10/18) … Matched career-high kills against Texas A&M (10/30) … Posted 10 kills and two blocks in upset of Florida (9/27) … Her 98 blocks were good for third best on the team … Finished 12th in SEC only blocks per set with 1.02 per set … Earned career-high 10 blocks along with nine kills at Auburn (10/16) … Posted five or more blocks in 10 matches … Led team in blocks in eight matches … Her 27 season service aces were good for second on the team … Led team in aces 10 times … Had a season-best three service aces against Little Rock (8/29), Ohio (9/1), Xavier (9/18) and Alabama (10/23) … Posted best hitting percentage of the season, hitting .857 while adding four blocks at Tennessee (11/8) … Notched four kills, two blocks and an assist in the NCAA tournament against American (12/4).
2014 (Redshirt Freshman): Played in 24 matches with 12 starts as a redshirt freshman … Posted 88 kills on .302 hitting with 57 blocks, 18 digs, five service aces and four assists … Led UK in blocks four times in 2015, coming in four consecutive matches … Named to the All-SEC Academic team for the second time in her career … Earned SEC Freshman of the Week honors on Dec. 1 after she posted 17 kills and seven blocks in two matches to close the regular season … Tied her career high with three digs in her NCAA Tournament debut vs. Oakland … Recorded seven kills on .462 hitting with three blocks vs. Arkansas … Had a career-high 10 kills on .500 hitting with four blocks at Auburn to go along with two digs and one assist, both career highs … Posted nine kills with a career-best .571 hitting clip, five blocks and a career-high-tying three digs at Ole Miss … Led UK in blocks with a career-best eight vs. Georgia Southern to go along with seven kills, one dig and one service ace … In her first career start, she posted nine kills on .500 hitting while adding her first career dig and ace vs. VCU … Notched her first multi-block contest with five rejections and five kills on .625 hitting at North Carolina.
2013 (Freshman):  Did not see game action in her first season with UK, will utilize the season as a redshirt year.
High School:Tabbed as the No. 47 rated player in the nation by PrepVolleyball.com … Fab 50 High School player … Two-time All-State performer … A 6'4 middle blocker from Red Mountain High School … Played club for Spiral Club … Earned best blocker award in 2010 … An honor roll student and a member of the National Honor Society.
Read more