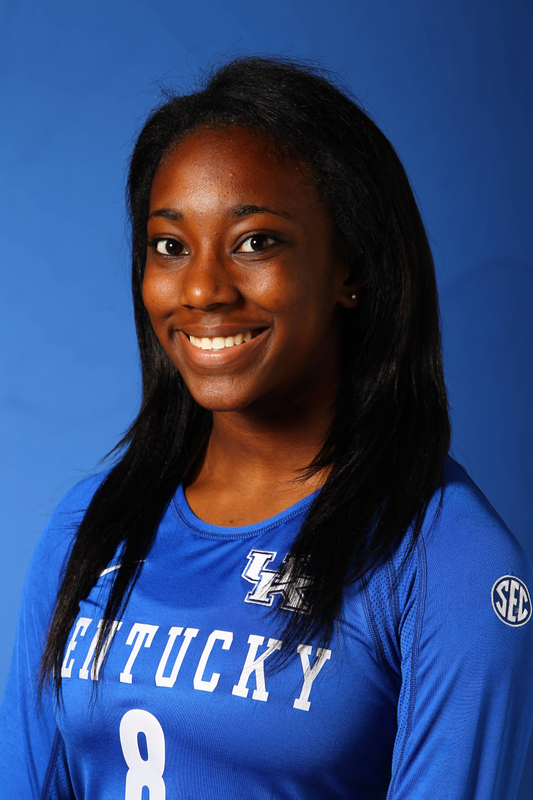 8
Darian

Mack
height

6-0

class

Senior

Hometown

Raleigh, North Carolina

High school

Wakefield
2016 (Junior): Appeared in every match during the 2016 season, starting the first 13 matches and appearing in 103 of 106 sets … Recorded 267 kills, third-highest on the team … Averaged 2.59 kills per set … Led team in kills in three matches … Led team in hitting percentage in two matches … Led team in blocks in one match … Recorded 20 kills, a career high, against Purdue … Earned her season high of 10 digs at Purdue, earning her a double-double … Hit double-digit kill numbers in nine matches, including 11 in the NCAA Tournament against Colorado State … Posted 17 terminations against Marquette on 35 swings for a .371 hitting percentage … Recorded nine kills on just 14 swings, tying a career best for a .571 hitting percentage at Tennessee … Also hit .571 with nine kills in win against South Carolina.
2015 (Sophomore): Appeared in every match, making 27 starts in 112 sets played … Shocker Volleyball Classic All-Tournament Team … Led team in kills (363) and points (408.0) … Led team in kills in 17 matches … Notched double-figure kills in 22 matches … Had 15 or more kills in eight matches … Added 229 digs (good for second on the team), 60 blocks, 19 assists, and 12 aces … Recorded five double-doubles during the season, including 15 kills and a season-best 15 digs along with a season-high three aces in the loss against Ohio (9/1) … Posted a career-best 17 kills at Northern Iowa (9/4) … Named to Shocker Volleyball Classic All-Tournament team following 39 kills, 29 digs, four assists, four blocks and an ace in three matches against Illinois (9/11), Wichita State (9/11) and Northern Illinois (9/12) … Hit a career-best .414 on 29 swings against Northern Illinois (9/12) …. Charted a career-high five blocks along with 14 kills and two aces against Louisville (9/20) … Posted 11 kills, three digs and a block in the first round NCAA tournament match with American (12/4).
2014 (Freshman): Appeared in 17 matches as a freshman … Recorded 26 kills, seven blocks, six digs and two service aces … Logged eight kills on .400 hitting with a team-high four blocks, all career bests vs. Morehead State … Had four kills, one ace and one dig in UK's win over Tennessee … Posted five kills on a career-high .400 hitting with one dig and one block vs. VCU … Notched a career-high two digs and her first career service ace to go along with one kill vs. Creighton.
High School: Attended Wakefield High School and also competed for the Triangle Volleyball Club … Was the captain of her high school squad and led Wakefield to a North Carolina High School 4A State Championship while earning MVP honors … Ranked No. 78 by Prep Volleyball … A two-time all-conference selection, helped Triangle Volleyball go to Nationals in 2012 … Was named to the AVB Honor Roll and the National Achievers Society … Won the Triple A Award, recognizing athletics, academics and attitude.
Read more