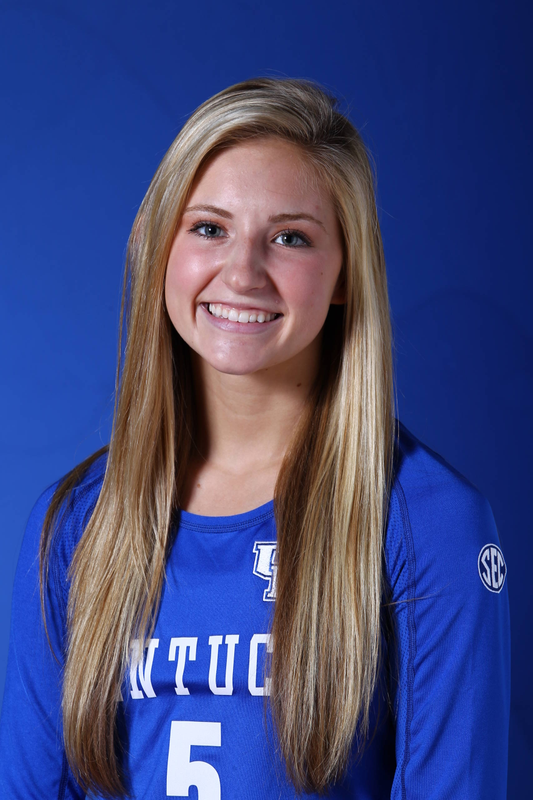 5
Ashley

Dusek
height

5-7

class

Senior

Hometown

East Bernard, Texas

High school

East Bernard
Senior (2017): AVCA Honorable Mention All-America … AVCA All-Southeast Region … SEC Libero of the Year … All-SEC … Two-time SEC Defensive Player of the Week and one time SEC Player of the Week … Preseason All-SEC … SENIOR Class award finalist … Appeared in 26 matches for UK after sitting out the first six due to injury … Started 25 matches as the libero for UK … Averaged a team high 4.35 digs per set … Recorded 405 total digs … Tallied double-digit scoops in every match she started and final 25 matches of the season … Averaged 3.53 digs per set in the NCAA Tournament with a team best 60 total scoops … Recorded 19 digs against Nebraska (12/9) in Elite Eight match … Named SEC Player and Defensive Player of the Week after season high 28 digs at Alabama (11/8) and 22 digs at Auburn (11/12) … Won SEC Defensive Player of the Week after 22 scoops at Arkansas and 20 at Georgia, helping UK clinch the SEC Championship … Committed just 10 reception errors all season and only recorded one match with more than one … Was one assist shy of double-double against Kennesaw State (9/16) after nine assists and 17 digs … Averaged 0.88 assists per set and recorded 82 … Had 11 aces with best coming at Mississippi State (10/1) …
Junior (2016): AVCA Honorable Mention All-America … Named SEC Libero of the Year for second-consecutive season … All-SEC Team … Two-time SEC Defensive Player of the Week and SEC Player of the Week … CoSIDA Academic All-District Team … Battle of the Bluegrass All-Tournament Team member … Member of the Preseason All-SEC Team … Started at libero in every match this season, playing all 106 sets … Averaged 4.78 digs per set, the highest on the team and second best in the SEC … Moved to seventh all-time in digs with 1,169 total scoops … Her 507 digs were the sixth highest total during the 25-point rally scoring era and ninth-best all time … Tallied double-digit digs in 29 matches … Eight matches with 20 digs or more … Averaged 5.05 digs per set in conference play, the second-best in the SEC … Logged a season-high 31 digs at Ole Miss, tying the conference's highest mark of the season … Her 31 digs against the Rebels and 23 scoops at Arkansas earned her SEC Player and Defensive Player of the Week … Her 23 digs against the Razorbacks were the second-highest total in a three-set match of any SEC player … Earned her first SEC Defensive Player of the Week honor after opening the season with three double-digit dig performances against Washington State, Wyoming and at Purdue … Posted 15-consecutive matches with double digit digs … Added 18 service aces, leading the team six times in that category … Recorded four kills and 64 assists, with a season-high four coming in the sweep of No. 5 Florida.
Sophomore (2015): AVCA All-America Honorable Mention … 2015 SEC Libero of the Year … AVCA All-Southeastern Region … All-SEC Team … Three-time SEC Defensive Player of the Week (9/28, 10/19, 11/30) … SEC Player of the Week (10/19) … Bluegrass Battle All-Tournament team … UNI All-Tournament team … Started at libero in every match this season, playing all 112 sets … Led SEC and ranked No. 29 in the nation with 566 digs, good for an average of 5.05 … Averaged 5.16 digs per set in SEC play, good for first in conference play … Added 105 assists, 23 aces, and four kills … Broke a 22-year-old record for digs in a single match, logging a career-high 40 at Auburn (10/16) … Was the only player from a Power Five institution to log 40 or more digs in a single match … Followed up 40 dig performance with 28 digs against Florida in four sets (10/18) … Logged 15 or more digs in 19 matches and 20 or more digs in nine matches … Had first career double-double against Northern Illinois, earning 11 assists and 10 digs (9/12) … The 11 assists also marked a career-high … Had a career-best four aces at Georgia (11/5) … Played a critical role in win over Michigan State (8/28) with 34 digs … Posted back-to-back matches with 25 or more digs in four sets, first collecting 28 against Ohio (9/1) before earning 31 digs against Northern Iowa (9/4) … Led team in digs (13) and aces (2) while adding four assists against American (12/4) in the first round of the NCAA tournament … Had only 14 errors on 700 reception attempts, good for a .980 reception percentage.
Freshman (2014): Saw action in all 33 matches as a freshman, with one start … Recorded 96 digs, 13 assists and 12 service aces in her freshman season, all ranked within the top six on the team … Posted seven digs and had one assist in the NCAA Tournament's second round match vs. Ohio State … Notched five digs with a career-high-tying two assists vs. Arkansas … Had six digs and a kill vs. Florida … Recorded a career-high nine digs with a service ace at Texas A&M … Had eight digs vs. LSU … Posted an ace and added two digs at LSU … Notched three digs, a career-high two assists and one service ace vs. VCU … Recorded her first career kill to go along with five digs and one assist at North Carolina … Tallied eight digs, one service ace and one assist vs. Butler … In her career debut, recorded a career-high two service aces vs. Wichita State.
High School: Competed for East Bernard High School and was also a member of the Houston Skyline Juniors Volleyball Club … Was named a PrepVolleyball All-America selection, one of the site's Top 250 Senior Aces and one of just 13 liberos to rank among the top 150 players … Was tabbed East Bernhard High School's Most Valuable Player three times in her four-year career … An All-State selection and the District 28-2A MVP in 2012 and 2013, and as a freshman she earned District 28-2A Newcomer of the Year recognition … Was named to the Texas Girls Coaches Association All-Star team after her senior season … Was the club-wide digs leader for three seasons and earned Defensive Award for Skyline following the 2011, '12 and '13 seasons. … Is a National Honor Society member and a four-time Academic All-District team honoree.
Read more