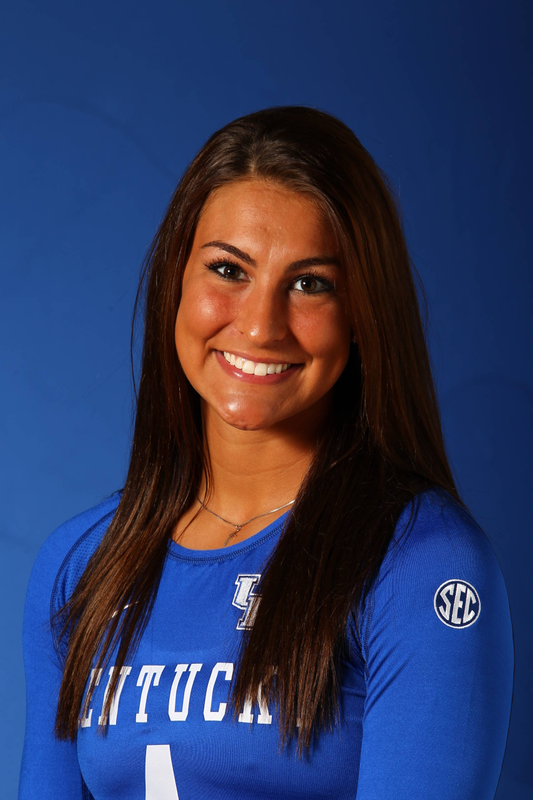 4
Anni

Thomasson
height

6-0

class

Senior

High school

Newark
2014 AVCA All-America Honorable Mention
2014 AVCA All-Southeast Region First Team
2014 All-SEC Team
2013 All-SEC Freshman Team
Two-time SEC Weekly Award Winner
Two-time All-SEC Academic Team honoree
2016 (Senior): Played in all 106 sets for the Wildcats, starting 18 matches … Recorded 102 kills, 232 digs, 24 aces, and six blocks … Led team in digs and blocks once … Became 25-point rally scoring era leader in aces after torching LSU for three to begin the match … Recorded her 1,000 career dig against Missouri with an 11-scoop performance … The Missouri match was also her 50th career match with double-digit digs … Posted a season-high 16 digs in NCAA Tournament win over Colorado State … Also added eight kills against the Rams … Recorded eight matches with double-digit digs … Charted double-digit digs in back-to-back matches at Alabama and Auburn … Was one kill away from a double-double with 14 digs and nine kills against Georgia … Began the season with 11 kills against Washington State … Also added a season high three assists against Washington State … Had four matches with three aces … Earned the Community Service Award at the Mortar Board Premier.
2015 (Junior): Started in 24 of 25 matches for a total of 91 sets  … Recorded 230 kills (2.53 per set) and 266 digs (2.92 per set) … Added 34 total blocks, 33 assists and 30 service aces … Her 30 aces led the team … Averaged 0.45 aces per set in SEC play, good for second best in the conference … Her 30 season aces also good for sixth in a single season during the 25-point rally scoring era … Had 13 matches with double-figure kills … Now ranks fifth in matches with 10 or more kills in the 25-point rally scoring era … Led team in kills on five occasions … Logged a season high 16 kills against  Missouri (11/15) … Her 230 kills were good for third best on the team … Logged 10 or more digs in 15 matches, including a season-best 16 against Ohio (9/1) … Led team with nine double-doubles … With the nine, moved to third in career double-doubles in the 25-point rally scoring era … Her 278.0 points ranked third on the team … Led team in kills (12) in the NCAA tournament match against American (12/4).
2014 (Sophomore): Was named to the AVCA All-America Honorable Mention team, AVCA All-Region team and All-SEC team after an impressive sophomore campaign … Started all 33 matches and finished second on the team in kills with 334, aces with 30, digs with 317 and points with 386.5 … Recorded a team-best 14 double-doubles and led UK in kills eight times, digs six times and blocks twice … Posted 22 matches with at least 10 kills and 18 matches with 10 or more digs … Had 14 digs, three kills and two blocks in the NCAA Tournament vs. Ohio State … Posted back-to-back double-doubles, with 10 kills and 10 digs at Mississippi State before 11 kills and 15 digs at Auburn … Notched a season-best 18 kills on .406 hitting with five digs and two blocks at Ole Miss … Had 16 kills with 14 digs vs. Georgia … Recorded double-doubles in three consecutive matches from Oct. 19-26, with 10 kills and a season-best 21 digs vs. LSU, 11 kills and 12 digs at Arkansas and 12 kills and 10 digs at Texas A&M … Had 10 kills on a career-best .600 hitting at Georgia … Posted a career-best six aces vs. Texas A&M along with 13 digs and eight kills … Posted double-digit kills in five consecutive matches, three coming with double-digit digs, including 14 kills and 13 digs at Louisville and 16 kills at North Carolina … Was named Bluegrass Battle All-Tournament MVP after she opened the season with two double-doubles in the first three matches, with 13 kills on .440 hitting with 12 digs vs. Wichita State and 11 kills and 17 digs vs. Virginia Tech. 
2013 (Freshman): An All-SEC Freshman team selection … Was named the SEC Player of the Week and the SEC Freshman of the Week … Her freshman campaign was highlighted by a record-setting 30 kills and 22 digs on Nov. 10 against LSU to earn SEC Player of the Week honors … Played in 30 of UK's 31 matches this season with 24 starts … Was second on the team with 242 kills for a 2.24 kills per set rate and third on the team with 251 digs and 19 services aces to go along with 286 points and 43 blocks in her freshman season … Had 12 kills in UK's NCAA Tournament win vs. Duquesne … Notched 16 kills with nine digs against Florida … Had nine kills, 14 digs and two blocks at Mississippi State … Recorded 15 kills with seven digs at Missouri … Notched 12 kills and seven digs at Arkansas … Registered 10 digs against Alabama … Had 12 kills against Mississippi State … Posted three assists and four blocks at Georgia, both tying career highs … Recorded six kills for a career-best .545 hitting clip in addition to three service aces against Tennessee … Notched 10 digs against Ole Miss … Posted seven kills and eight digs at Auburn … Had 10 kills and 14 digs for her fourth career double-double in the win over Minnesota … Recorded her second double-double in three matches with a team-high-tying 13 kills and a team best 16 digs, both career highs vs. Louisville … Had a team-high-tying four blocks against ETSU … Notched her first collegiate double-double with 12 kills and 13 digs against Liberty … Posted a four kill performance with six digs and one block at Long Beach State … Led the team with 15 digs in her second career match against Illinois … Made her UK debut in the season opener against Florida State.
High School: A 6'0 outside hitter who started every match of her high school career … Holds school records for kills and digs … Finished high school career ranking third in the state of Ohio with 1,688 career kills … Ranked as the No. 60 overall player by PrepVolleyball.com … An Under Armour All-America selection … Four-time all-state performer … A four-time Ohio Capital Conference Player of the Year … Played for the Columbus Volleyball Academy.
Read more