UK Athletics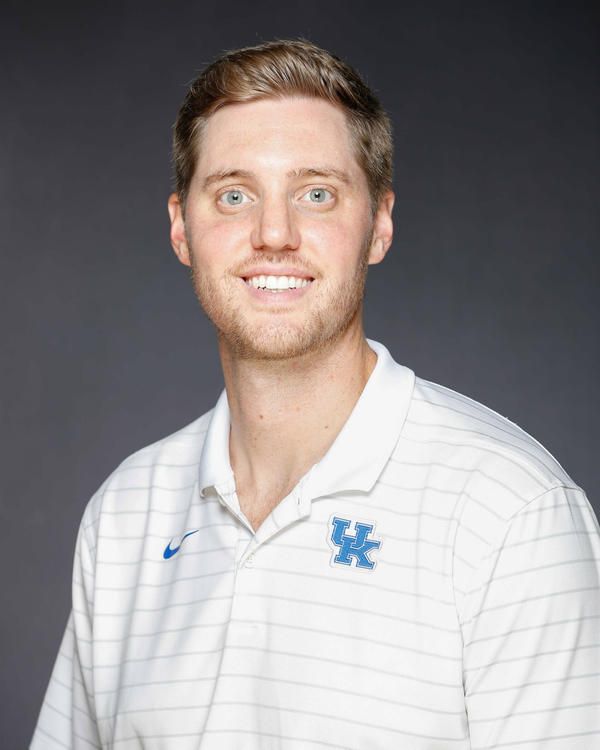 Anders Nelson begins his 11th season at Kentucky in 2022, and seventh as associate head coach, following his hire in February of 2013.
He reached the pinnacle of the sport in April of 2021, winning the 2020 NCAA National Championship at the CHI Health Center in Omaha, Nebraska. In doing so, he became the associate head coach of the first volleyball team in Southeastern Conference history to win a national championship.
In 2021, Nelson helped Kentucky win its fifth-straight SEC title, en route to a 17-1 league record. The Wildcats were selected as a host site for the 2021 NCAA Tournament and swept SEMO in the opening round of the championship. Nelson guided Alli Stumler to AVCA All-America honors in 2021 in addition to freshman setter Emma Grome.
Kentucky's historical run to a national title in 2020-21 was one to remember. UK went 24-1 on the season in an all-conference regular season, winning the SEC for the fourth year in a row. UK then swept through the bubbled NCAA Tournament, winning games against UNLV, Western Kentucky, Purdue, Washington and Texas along the way to the NCAA National Championship. Nelson helped guide Madison Lilley to the 2021 AVCA Player of the Year Award, 2020-21 Honda Award for Volleyball and was one of three players to be named AVCA First Team All-America.
Nelson leads Kentucky's efforts on defense, scouting, and primarily works with middle blockers in addition to his important duties as the Kentucky Volleyball camps coordinator. He was tabbed one of the AVCA's "Top 30 Coaches Under 30" following his second season with the Blue and White.
For the third-consecutive season, Nelson helped lead Kentucky to the Southeastern Conference title in 2019, and he guided the Wildcats to a perfect 8-0 abbreviated fall in 2020. In 2019, Kentucky not only won its third-straight SEC title, but Nelson's coaching helped pace UK to the No. 9 overall national seed in the 2019 NCAA Tournament, secured a first and second round hosting spot, and a berth in the Sweet Sixteen. Under his tutelage, transfer Leah Meyer was named an AVCA All-Region player in just one year working with Nelson after four successful years at Duke. Meyer and others took Nelson's leadership to the court by holding opponents to a .155 hitting percentage, which led the SEC, finished 13th in the nation and was the lowest for the program in last decade.
As part of his relentless effort in recruiting along with Craig Skinner and Carly Cramer, he has helped put together the school's first-ever No. 1 ranked recruiting class (2019) and also ranked in the top-10 in 2015, 2016 and 2017 according to PrepVolleyball.com.
In 2018, the Wildcats put together a 23-match winning streak, the second-longest in program history and advanced to the NCAA Regional Semifinals. Senior Brooke Morgan enjoyed a breakout campaign after leading the conference in hitting percentage at .409 under Nelson's tutelage and earned All-America honorable mention honors and All-SEC accolades for the first time in her career. UK led the league in hitting percentage (.301), assists (13.17) and kills (14.44), while ranking second in opponent hitting percentage (.188) and service aces (1.49).
The 2017 season saw Kentucky advance to the Elite Eight and win the SEC championship after going 29-4 and 17-1 in the league. Nelson helped Kaz Brown and Emily Franklin earn All-SEC honors. It was Brown's third-straight, while Franklin appeared on the list for the first time. Brown led the team in blocks at 1.24 per frame. Franklin broke the school record for attack percentage at .416.
In 2016, the Wildcats returned to the NCAA Tournament with a mark of 23-8 and 15-3 in the league. Nelson aided Brown to her second All-SEC and AVCA All-Region nod. Brown averaged 2.58 kills and 1.42 blocks per set during the season. In conference play, Brown's numbers improved to 1.52 blocks per set and 2.94 kills per set.
In 2015, Nelson aided the team to a league-best opponent hitting percentage, holding SEC foes to just .156 hitting. He also helped Brown to a breakout defensive effort, where she finished third in all of NCAA Division I for blocks per set, averaging 1.61 per frame en route to her first All-SEC and AVCA All-Region nods.
The 2014 Wildcats limited opponents to a .194 hitting percentage for the season while leading the league with 14.25 kills per set. Brown averaged 1.09 blocks per set and ranked sixth in the league among her position during her freshman campaign.
Senior middle blocker Alexandra Morgan had a breakout senior campaign earning All-America distinction for the first time in her career and All-SEC honors as well in 2013. Morgan finished her career ranking first in the 25-point rally-scoring era with a career hitting percentage of .355.
Nelson also guided the Wildcat defense to a league-high 2.88 blocks per set within SEC action. Three players ranked in the top 15 for individual blocking, while Morgan and sophomore Sara Schwarzwalder were both among the top five of league leaders.
Nelson previously spent a year as an assistant at Arkansas and was a volunteer assistant at Kentucky in 2011.
While at Arkansas, the Razorbacks earned a 22-10 overall record which resulted in their first berth in the NCAA Tournament since 2006. Nelson helped guide Arkansas to its highest team hitting percentage in nine seasons, while aiding the recruiting trail as three players ranked in the top-100 by PrepVolley-ball.com committed to the program for the 2013 season.
Nelson also served as the camp director for all summer camps in Fayetteville. Attendance rose to its largest numbers in five years under his direction.
Prior to his time at Arkansas, Nelson served as a volunteer assistant at Kentucky during the 2011 season. The Wildcats advanced to the regional semifinal and finished 28-6 overall en route to capping the year with top-15 national rankings. Nelson worked with Kentucky's middle blockers who averaged 2.56 blocks per set to lead the league and rank in the top-40 nationally.
At the club level, Nelson spent two seasons with the Munciana Volleyball Club. He helped lead the club to the 2011 AAU 18 Open National Championship with a near-perfect record of 66-2. During his tenure with Munciana, he coached three All-America players including former Kentucky setter Morgan Bergren who also was tabbed the MVP of the national tournament.
While in the high school coaching ranks, Nelson was an assistant at Muncie Burris Laboratory High School where the team earned a combined 79-0 record, two state titles and a pair of national runner-up finishes. At Muncie Burris, Nelson helped coach two Gatorade Players of the Year and nine all-state performers.
A second team All-American, Nelson was also a two-time All-MIVA performer while serving as the team captain for the three seasons at Ball State. During his senior campaign, he ranked fourth in the nation for total blocks and finished second in the "Off the Block" National Blocker of the Year voting.
Nelson is a 2011 graduate of Ball State University where he graduated summa cum laude with a finance and accounting degree. He earned a master's of business administration from Kentucky in May of 2018 and is married to Mark Hemberger.
Read more