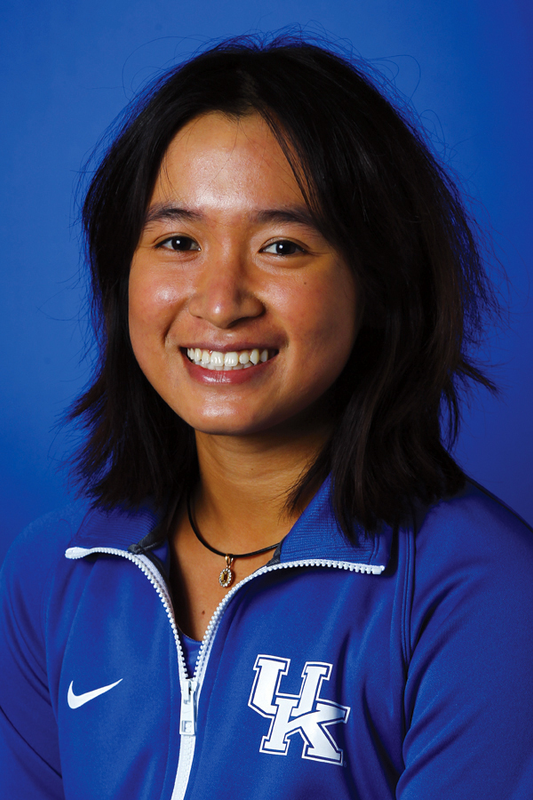 Nadia

Ravita
class

Senior

High school

Morningside Academy
2014-15 (Junior): Led Kentucky
in the No. 1 singles slot for the second consecutive year, recording nine wins …
Of the nine wins, four came against individuals ranked in the top-120,
including #30 Erin Routliffe (No. 9 Alabama) … Collected five wins against
teams ranked in the top-50, highlighted by wins against two teams in the top-15
in No. 9 Alabama and No. 13 Clemson … Finished the season as the 78th
ranked individual in the country … Paired with Aldila Sutjiadi, won the
USTA/ITA Ohio Valley Regional Doubles title, which advanced them to the National
Indoor Championships and became the first duo to win the regional title for
Kentucky since 2006 … The duo went 4-2 at No. 1 doubles and finished as the 34th
ranked doubles pairing … When paired with Kirsten Lewis, recorded four wins at
No. 2 doubles … The pair's record is highlighted by wins against the 47th
ranked pairing of Emily Zabor and Natalia Maynetto (No. 9 Alabama) and 54th
ranked pairing of Spencer Liang and Belinda Woolcock (No. 6 Florida) … Recorded
one win with Taylor Lederman. 
2013-14 (Sophomore): Recorded 10 wins at No. 1 singles position, highlighted by performances over #39 Joana Vale Costa of #41 LSU, #22 Ohio State, and defeating #68 Pleun Burgmans of #49 Auburn twice … Achieved record of 13-3 in doubles with Aldila Sujiadi at the No. 2 slot … Included were wins over #7 Virginia, #11 Vanderbilt twice, #26 South Carolina, and the #44 ranked duo of Gabriella De Santis and Sandy Niehaus of #22 Ohio State … Ravita and Sutjiadi achieved the #28 overall ranking for doubles.
2012-13 (Freshman): Led Kentucky in the No. 1 singles slot, posting a 20-5 record in the spring, including 10-3 in Southeastern Conference matches … Received the first NCAA singles at-large bid for a Wildcat since Kim Coventry earned one in 2006 … Ranked as high as 22nd nationally … Knocked off No. 4 Cristina Sanchez-Quintanar of Texas A&M … Won nine matches in spring doubles competition paired with Caitlin McGraw in the No. 1 doubles slot … Finished the fall season with a singles record of 5-4 … Won two matches at the Roberta Alison Fall Classic … Had all three matches at the USTA/ITA Ohio Valley Regional go into three sets, winning two of three … Notched one singles win at the Tennessee Fall Invite … Tallied a 6-2 doubles record in the fall when paired with fellow freshman Kirsten Lewis.
Read more