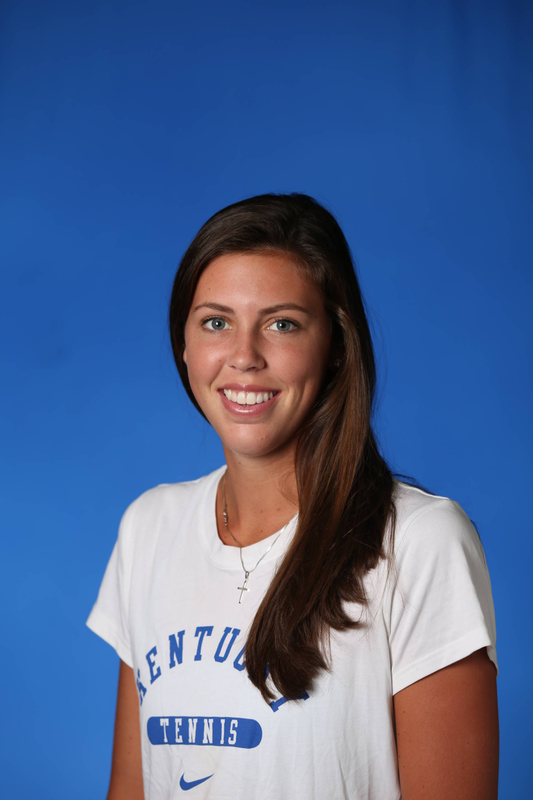 Morgan

Chumney
class

Senior

Previous School

Oklahoma

High school

Fort Mill High School
2016-17 (Senior)
Played primarily at the No. 6 singles spot and No. 2 doubles spot with Akvile Paražinskaite … Ended the season ranked No. 76 in doubles with Paražinskaite after going 10-6, including a 6-3 record in conference play …  Went 11-7 in singles throughout the dual season … Named to the SEC Community Service Team.
 
2015-16 (Junior)
Posted a 5-2 dual record before sitting out a month and a half to injury … Played primarily in the No. 4 spot, with her only losses coming against SEC opponents … When paired with Akvile Paražinskaite, the duo went 10-2, including 3-1 in SEC action … Finished the season with a No. 77 national ranking in doubles, and was ranked as high as No. 51 … Posted a 6-4 upset of then-No. 22 Josie Kuhlman and Belinda Woolcock of Florida to help Kentucky hand the Gators their first doubles point loss of the season.
2014-15 (Sophomore at Oklahoma)
Compiled a 6-9 record in fall tournament play.
2013-14 (Freshman at Oklahoma)
Went a combined 11-13 at the No. 3 and 4 singles positions…Recorded an 8-6 record at the No. 2 doubles position with partner Emma Devine…Upset the No. 8 doubles team in the second round of the NCAA team championship with partner Whitney Ritchie…One of six Sooners to reach 20-plus singles wins for the year…Finished in the Top 5 of the Big 12 conference at the No. 3 position.
 
Junior Career
Five-star recruit out of South Carolina … Ranked as the No. 63 player in the nation and the No. 20 player in the Southeast … Advanced to the round of 16 singles at the UTSA Regional Tournament and captured a doubles championship … Also was a doubles finalist at the UTSA National Regional 18s and Southern Closed 18s … Received the United States Tennis Association's South Carolina 2011 Mark Hodgin Junior Sportsmanship Award her junior year.
 
Personal
Attended Fort Mill High School … Daughter of Stu and Teresa Chumney … Has an older sister, Ashlee.
 
Read more