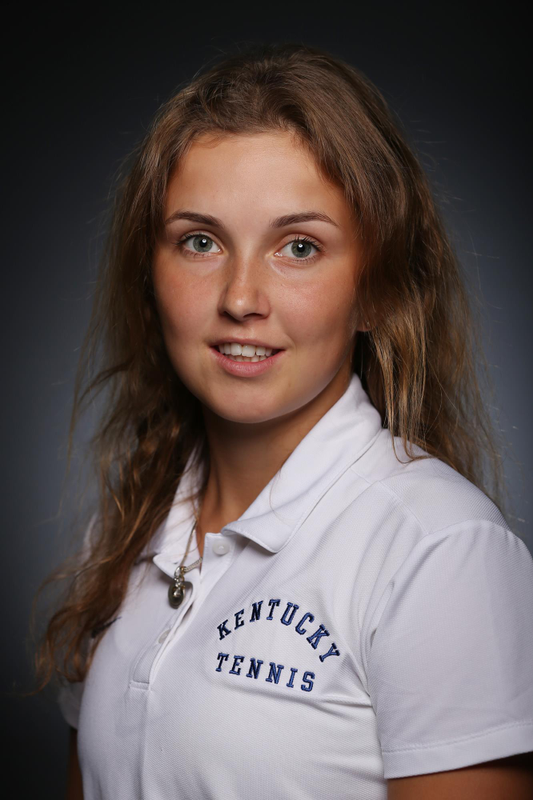 Justina

Mikulskyte
height

5-7

class

Senior

Hometown

Siauliai, Lithuania

Major

Hospitality Management and Tourism

High school

Siauliai Didzdvaris Gymnasium
2019 All-SEC First Team
2017, 2018, 2019 SEC Spring Academic Honor Roll
2016 SEC All-Freshman Team
2018-19 (Senior)
Named to All-SEC First Team … Selected to compete in the NCAA Singles and Doubles Championships for the first time in her career … There, she reached the second round of the singles tournament and dropped in the first round of the doubles tournament … Competed in the No. 1 slot in singles and in doubles all season … In dual meets this season, she put together a 15-7 mark in singles action, including a 7-4 record in the league, and meanwhile, she boasted an 8-5 record against ranked singles foes … In the process, Mikulskyte defeated three players ranked in the ITA/Oracle National Singles Rankings Top 20, including No. 7 Gamarra Martins, No. 15 Eden Richardson and No. 16 Ida Jarlskog … In doubles, Mikulskyte earned a 14-8 record in dual meets this season … Paired with Akvile Paražinskaite, the doubles team earned a 13-8 record, including an impressive 8-2 mark in the league, earning a remarkable 8-2 mark against ranked foes … The UK doubles team defeated four teams ranked in the ITA/Oracle National Doubles Rankings Top 15, including No. 1 Mia Horvit and Gamarra Martins, No. 3 and reigning national doubles champions in Eden Richardson and Jessica Golovin, No. 11 Sadie Hammond and Kaitlin Staines, and No. 14 Sophia Graver and Taylor Russo … Mikulskyte reached as high as No. 15 in the ITA/Oracle National Singles Rankings and No. 13 in the ITA/Oracle National Doubles Rankings this season, ending the year at No. 32 in singles and No. 23 in doubles … Named SEC Freshman of the Week twice this season … Nominee for Female Scholar-Athlete of the Year by the UK Athletics Department … Named to SEC Spring Academic Honor Roll.
2017-18 (Junior)
Competed mainly on the No. 1 and No. 2 singles courts throughout the dual season … Ranked as high as No. 87 in the ITA singles rankings … Won the Ohio Valley Regional singles title in the fall over Purdue's Sylvia Ambrosio on a 7-6 (9), 6-3 mark to qualify for the National Fall Championships … Compiled an overall singles record of 19-13, including a 11-9 record in the dual season … Earned four ranked singles wins in dual play, with her highest-ranked win coming against Auburn's No. 60 Jaeda Daniel in straight sets … Went 13-7 in doubles during the dual season, playing on both courts two and three … Began teaming with Mami Adachi toward the end of the season, and went 5-1 together on court two … Named SEC Player of the Week on Feb. 21 after an undefeated weekend over Princeton and Columbia … Named to SEC Spring Academic Honor Roll. 
2016-17 (Sophomore)
Mainly saw action on court five in singles and court three in doubles with Emily Fanning … Went 15-9 in singles overall, including an impressive 7-3 record in SEC play … Was 7-0 in singles to start off league play … Saw great success in doubles with Fanning, going 15-4 overall and 7-3 against league opponents … In the fall, won the Ohio Valley Regional doubles title with Lesedi Jacobs to earn a bid to the USTA/ITA National Intercollegiate Indoor Championships … Named to SEC Spring Academic Honor Roll.
2016 (Freshman)
Named to the SEC All-Freshman Team … Finished the season with a No. 77 national ranking, sitting as high as 56 during the season … Posted a 13-13 record during her rookie campaign, including 3-10 at the No. 1 spot during SEC play … Posted three wins over ranked opponents, including No. 40 Saska Gavriloska of Texas A&M and No. 42 Sadie Hammond of Tennessee … Paired with Nadia Ravita in doubles, starting at the No. 3 spot before playing the majority of the SEC season at the No. 2 spot … Had just one loss in the SEC in doubles, with a 17-2 overall record … Ranked No. 82 in doubles once during the season.
 
Prior to UK
Achieved highest ITF ranking of 42 … Recorded 66 wins in singles and 77 in doubles.
 
Personal
Attended Siauliai Didzdvaris Gymnasium in Lithuania … Daughter of Vytautas Mikulskis and Asta Mikulskiene … Has a younger brother, Nojus.
Read more