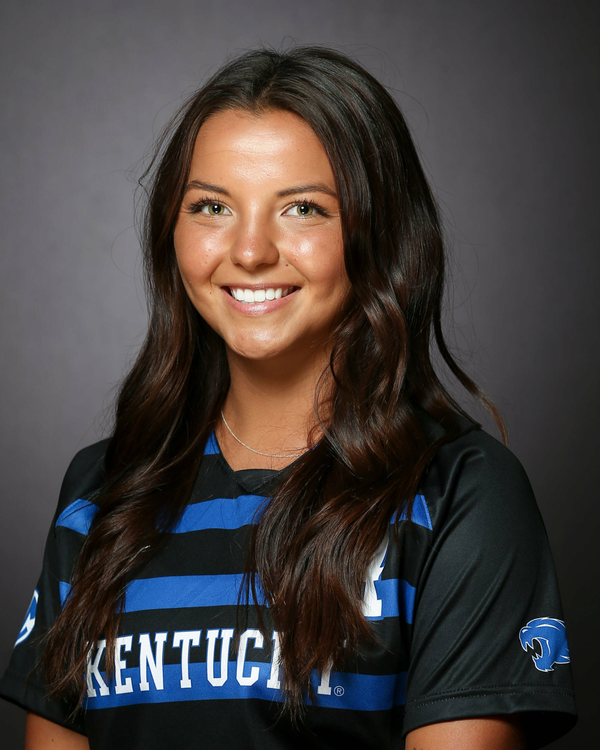 14
Taylor

Hattori
position

Midfielder

height

5-5

class

Graduate Student

Hometown

Hartland, Wisc.

Previous School

Milwaukee
2022 (Graduate Student)
Played in all 18 matches at midfield, making 17 starts
Scored goals vs. Eastern Kentucky and Eastern Michigan, helping UK to victory
Fired 10 shots, including five on target
Picked up an assist on Úlfa Úlfarsdóttir's goal vs. Wright State
Finished the season with five points
Logged 1276 minutes
From Milwaukee:
2021: Started 15 of the 18 games she appeared in on the season, finishing with nine points on two goals and a career-high five assists … assist total ranked tied for seventh in the Horizon League … finished with 11 total shots, four of which were on goal … picked up an assist in the season opener against Northern Illinois Aug. 19, seeing her shot attempt hit the crossbar before being cleaned up in front … recorded the assist on the eventual game winner just 1:21 into the game against Cleveland State Sept. 23, the first of four straight games with an assist … also the first game of a stretch of the final 13 of the year that she was in the starting lineup … set up the first goal to get MKE back to even against Purdue Fort Wayne in the 2-1 OT victory Oct. 2 … put together a brilliant outing against IUPUI Oct. 7, scoring the game-winner before assisting an insurance tally against the Jaguars, while also adding a season-high three shot attempts in the 2-0 win … scored one of the biggest goal of the season, accounting for the only score of the contest as the Panthers topped No. 14 Xavier in the first round of the NCAA Tournament Nov. 13 … her 16th-minute goal held up in the 1-0 victory … named to the Top Drawer Soccer Women's Team of the Week Nov. 16 for her efforts … claimed a spot on the Horizon League Academic Honor Roll.
• 2021 game-by-game in PDF Format
2020 (COVID-shortened): A starter in all 12 games, earning Second-Team All-Horizon League honors after finishing the campaign with four points on a pair of goals … recorded six shots overall … netted the eventual game-winner in the season opener against Robert Morris Feb. 3 … recorded a pair of shots in her next game against Purdue Fort Wayne Feb. 10 … two more shots and a goal against Wright State Feb. 24 … named to the Horizon League Academic Honor Roll.
• 2020 game-by-game in PDF Format
2019: Enjoyed a breakout sophomore campaign, starting and appearing in all 20 games … named First Team All-Horizon League … minutes played total jumped nearly 400 percent from 2018 (336) to 2019 (1.632) … set career-highs across the board, finishing with 14 points on five goals and four assists … three of her five goals were game-winners … produced those 14 points on just 19 shots, 12 of which were on goal … .632 SOG% was second-highest on team with at least 10 attempts … finished tied for ninth in the Horizon League in total points and tied for 10th in goals … tallied an assist in the 3-1 win over Northern Illinois in the home opener Aug. 26 … scored her first goal of the year against Western Illinois Sept. 12 … recorded a brace against Cleveland State in the 5-1 victory Sept. 28, with one of the two goals going down as the game-winner … posted back-to-back game-winning goals in the pair of 3-0 defeats of Northern Kentucky Oct. 19 and IUPUI Oct. 23 … assisted half of the MKE goal total in the 4-0 shutout of Youngstown State Nov. 1 … also recorded an assist on the game-winner in the opening game of the Horizon League Tournament against Oakland Nov. 7 … named to the Horizon League Academic Honor Roll.
• 2019 game-by-game in PDF Format
2018: Appeared in 17 of Milwaukee's 19 games over the course of her freshman campaign … netted one goal while recording five shots on the year, putting three on target … made her collegiate debut in the season opener against Northern Illinois Aug. 17, seeing 19 minutes of time on the field (1 shot on goal) … recorded shot attempts against Robert Morris Aug. 31 and two Youngstown State Sept. 14 … also played a season-high 34 minutes in the 1-0 victory over RMU … her one goal was a game-winner, scoring in the 66th minute in a 1-0 win over Northern Kentucky Oct. 20, helping MKE clinch its fourth Horizon League regular-season title in a row in the process .. one-touched a perfect pass with her left foot to the far post at the 65:44 mark after having just subbed into the contest.
• 2018 game-by-game in PDF Format
High School: Helped Arrowhead High School to its first Classic 8 Conference title since 2002 and a spot in the Division 1 sectional final as a junior … earned first-team all-league status as well as a spot on the 2017 Wisconsin Soccer Coaches Association Second-Team All-State … defender/midfielder was on the second-team all-area squad and was a second-team all-state honoree as a sophomore … honorable mention all-league as a freshman … played club soccer with Lake Country United (2012-13) and SC Waukesha (2013-17).
Personal: Daughter of Thomas and Annette Hattori … a journalism, advertising, and media studies major … chose Milwaukee because she liked the distance from home, the campus life, the coaching staff and the wide range of majors and academic opportunities … most memorable sports experience was winning a state championship five times as well as going to sectional finals and winning a conference championship in high school … career goal is to start her own business with her psychology degree and help people with their personal issues; to also get the most out of her soccer career and start a family after college … hobbies include reading, writing, photography and cooking … has done community service work with United Way … born Oct. 14, 1999.
Read more