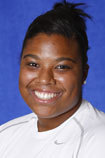 17
Nathalie

Bolder
height

5-4

class

Redshirt Senior
2006: Redshirt
2005: Played in 16 matches and made eight starts for the Wildcats as a sophomore … Recorded six shots, including three on goal … Had two shots on goal against Ole Miss … Tallied an assist in the Cats' 4-1 win at Mississippi State … Recorded two shots in back-to-back matches against Ole Miss and Mississippi State.
2004: Appeared in 17 matches, including 10 of 11 SEC matches … Recorded three shots, including two shots on goal, in her first match against West Virginia … Scored her first career goal at Michigan State … Launched two shots at Arkansas and Tennessee.
Pre-College: Leading scorer in 2000 (sustained injuries halfway through season) …Received Honorable Mention all three seasons… Played for Todd Hitt on the RFC Milan club team … … Enrolled in the International Baccalaureate Program for four years and received academic letter and bars … Honor Roll Student all three years … Nominee for Youth Salute …Nominee for African American Weekend … Second place French Winner for Dramatic Speaking in District Competition … Honorable Merit of Cum Laude for National Latin Exam.
Personal: Full name is Nathalie Jacqueline Bolder … Born September 21, 1986 … Parents are Rene and Josianne Bolder … Chose UK because of the coaching staff, the unity of the team, the beauty of the campus and because of the similarities in climate to her native Virginia … Lists most memorable moment in sports as when she saved a goal on a defensive corner against the Langhorne Strikers, a rival club team … Chose UK over Boston, Iowa State, Clemson, Florida State, Virginia Tech and Old Dominion … … She plans to pursue a career in nursing after obtaining a UK degree in nursing … … Hobbies include reading, golf, tennis, movies, hiking, tag football and gardening … Favorite athlete is Michael Vick … Her sister, Corinne, played soccer at Minnesota.
Bolder Career Stats
Year  GP/GS Min  Shots  SOG  Goals  Asst  Pts  GWG  YC2004  17/0  585   13     8     1      0    2    0    02005  16/8  786    6     3     0      1    1    0    02006                    REDSHIRTTotal 33/8 1371   19    11     1      1    3    0    0
Bolder SEC Career Stats
Year  GP/GS Min  Shots  SOG  Goals  Asst  Pts  GWG  YC2004  10/0  232    6     4     0      0    0    0    02005   9/7  584    5     3     0      1    1    0    02006                    REDSHIRTTotal 19/7  816   11     7     0      1    1    0    0
Read more