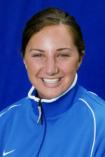 0
Lipka on Butler: "Liz is a great shot stopper. She is fearless between the pipes and does a good job of keeping the back organized. I think she will grow into a future leadership role on this team."
General: Starting goalkeeper from a season ago… Slight edge heading into fall but must stay on top of game.
2002: Started all 20 matches between the pipes for UK, playing all but 15 minutes of the season… Posted five shutouts on the season… Named to the Soccer Buzz Freshman All-America team, as well as the All-Great Lakes Freshman Team… Posted first collegiate shutout against No. 23 Illinois in second career start to begin the year 2-0 and earn a spot on the Nike Tiger Invitational All-Tournament Team… Made seven key saves against Vanderbilt to win UK's SEC opener… First SEC shutout came against long-time UK nemesis Florida… Collected a career-high eight saves in a regular-season 2-0 loss at No. 13 Tennessee… Named to the SEC All-Tournament team for making eight combined saves against Ole Miss and Tennessee, including a pair of game-saving stops to finish off the third-seeded Rebels.
2001: Redshirt season.
Pre-College: Four-year starter… Kansas state ODP team 1997-00… USYSA Region II ODP Camp 1997-00… USYSA Region II Mixed Sessions 1998-00… Trained individually with US Goalkeeping coordinator Peter Mallor and ODP coach Mark Sheldon… Club team was KC Heat, coached by Gaggs Pritchard… Member of University of Kansas Winter Invitational 1982 championship team… Junior year GAA of 0.52 and freshman year 131 saves were the best in school history… Nationally ranked sophomore year for highest number of saves in a game (16)… Named first-team All-Sunflower, first-team 6A NEKSCA, and first-team All-Johnson County her junior year… Second-team East Kansas League and second-team Kansas City Star All-Metro team junior year… Named Newcomer of the Year in 1998… Also lettered in golf and basketball, finishing her prep career with 12 varsity letters to her name… Four-year member of the Honor Roll… National Honor Society member… Student Council member… Student Association member… Won Outstanding French Student award.
Personal: Full name is Elizabeth Catherine Butler… Born December 2, 1982… Parents are Steve and Taloyre Butler… Most memorable moment in sports is making the winning save in a penalty-kick shoot-out in the President's Day Tournament in Phoenix, Ariz… Chose UK because she wanted to play at a high level in soccer and liked the team members… Chose the Wildcats over Oregon State, UConn, Kansas and Marquette.
YearGP/GSMinutesSavesGAGAAShO200220/201800:2070231.155Total20/201800:2070231.155
Read more