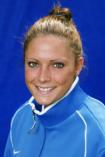 10
Lipka on Russell: "Lauren is athletic and extremely fast. She is a very good one-on-one attacking player."
General: Returning senior starter in the UK attack… Had a great spring… Ready for leadership role for Cats.
2002: Appeared in all 20 games for the Wildcats in attack, making 13 starts… Named to SEC Academic Honor Roll… Second on the team in scoring with five goals, including two gamewinners, for 10 points… Scored UK's first goal of the season in a 3-1 victory over Indiana… Netted the gamewinner in the Cats' conference opener against Vanderbilt… Contributed the first insurance goal in UK's 3-0 victory over Florida… Opened scoring against Arkansas, leading to a 3-1 UK win… Hit the game-winning goal in the opening round of the SEC Tournament to advance past third-seeded Ole Miss.
2001: Played in 19 games and started twice as a sophomore… Scored her first career goal as a Wildcat in UK's 7-1 SEC victory over Alabama (10/26)… Earned first collegiate start in the Wildcats' 1-0 shutout at Vanderbilt (9/2).
2000: Saw action in 20 games… Took five shots… Recorded five assists for five points… Collected her first collegiate point in a 4-0 blanking of Ohio (9/10)… Posted assists in back-to-back games vs. Xavier and Arkansas… Assisted the game-winning goal in the final seconds vs. Arkansas (10/22).
Pre-College: Four-year letterwinner at Summit Country Day… Team captain her senior year… Scored 45 goals during her four years… Two-time All-City selection… Two-time first-team All-League selection… Named team Offensive MVP two seasons… Selected to the Cincinnati Enquirer and Cincinnati Post All-Star team.
Personal: Full name is Lauren Elizabeth Russell… Born Jan. 12, 1982… Parents are John and Sandy… Lists winning the league title three years in a row and the district twice as her most memorable moments in sports… Chose the Wildcats over Arkansas, Alabama, Ole Miss and Ohio State.
YearGP/GSSHGAPTSGWGYCRC200220/13285010210200119/211102000200020/05055000Total59/15446517210
Read more