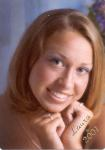 20
Laura

Wendling
height

5-6

class

Redshirt Freshman
General: Redshirted last season… Will see time in the central midfield… Sees the game verywell… Spent the off-season increasing her strength… Will provide needed depth at the midfieldposition.
2001: Redshirt season.
Pre-College: ODP State team 1995-99… ODP Region II Pool team in1998… ODP Region II Training Pool 1996-99… 1997-98 statesemifinalist on Notre Dame Academy's team… Cincinnati Enquirer andKentucky Post All-Star in 2000… Named to 2000 Northern KentuckyAthletic Conference All-Star team… State of Kentucky first-teamAll-State pick in 2000… First-team Academic All-State team in1997-2000… Scored 36 goals and had 27 assists in high schoolcareer… Kentucky State semifinalist 1998 and 1999… NorthernKentucky All-Region team 1998 and 1999… GSE Cardinals Premier clubteam, coached by Tim Lesiak… Cardinals were Region II semifinalistsin 1998… Won the Cardinal Cup in 1999 and was named MVP of thetournament… adidas Premier League… Adidas-ESP team 1998-2000…Is a four-year First Honors student… Who's Who AmongAmerican High School Students 1997-2000… Spanish National HonorSociety member 1997-2000… First-team Academic All-Star team1997-2000… Girls Athletic Association Representative… G.A.A.L.I.F.E. Member… Also lettered in basketball.
Personal: Full name is Laura Claire Wendling… Born December 30,1982… Parents are Herb and Jan Wendling… Lists playing withteammates on Cardinal Club team and Notre Dame team in the two statefinal games as her most memorable moment in sports… Chose UK becauseit is one of the top-rated programs in the country, it is close tohome, and it will allow her to continue competing at a high level…Chose the Wildcats over Marquette, Louisville, Boston University, Miami(Ohio) and Ohio University… Hobbies include shopping, working outwith friends, playing with kids at daycare job and vacationing.
Lipka on Wendling: "Laura is a walk-on from Northern Kentucky who had a nicespring season yet still has some development to do to see quality minutes.We're confindent in her ability to mature and become a solid player in the future."
Read more