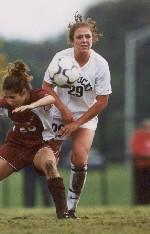 12
Lipka on Moyer: "Kristin is continuing to move forward and her confidence is definitely gaining as well."
General: Athletic central defender… Strong physical presence and athleticsm… Good lateral movement.
2002: Saw action in more than half of the Cats' matches as a freshman… In eleven matches, launched six shots, three of which were on goal… Made her UK debut in the first game of the seaosn vs. Indiana.
Pre-College: Four-year letter winner in soccer, basketball and softball at Niwot High School… Selected first-team All-Tri-Valley League in soccer in 1999, 2000 and 2001… Awarded the Tri-Valley League's MVP as a senior in 2001… Selected to the All-Area team in 2000 and 2001 by the Longmont Times Call… Named the Longmaon Times Call Defensive Player of the Year in 2001… Voted team captain as a senior… Her Niwot soccer teams lost only four games in four years… First-team All-Tri-Valley Conference in basketball as a junior and senior.
Personal: Full name is Kristin Michele Moyer… Born March 3, 1984… Parents are Joe and Michele Moyer… Has one sister, Kara (15)… Lists playing in the final game of the 2000 Gotnia Cup in Sweden as her highlight in athletic career… Chose UK because of the beautiful campus, the variety of academic choices and the high level of competition… Considered Colorado, Kansas and Washington State… Goal at UK: to earn a starting position.
YearGP/GSSHGAPTSGWGYCRC200211/06000000Total11/06000000
Read more