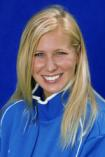 2
Lipka on Jedlo: "Kristen had an okay freshman year, but came back to have an outstanding spring season up front. She will provide even more depth in our attack."
General: Will contribute to the Kentucky attack this season after being listed as a defender in 2002… Older sister, Kim, played for the Wildcats in 2001.
2002: Played in all 20 matches during her freshman campaign… Scored the game-winning goal in the 89th minute to give the Cats a 2-1 win over Arizona… Received a Catspy at the inaugural UK awards show for "Female Play of the Year"… Hit another game-winner against Arkansas to solidify Kentucky's spot in its 10th SEC Tournament.
Pre-College: A four-year starter and a three-year All-Conference (SICA-West) performer at Lincoln Way Central High School… Named to the 2001 Chicago Sun Times, Chicago Tribune, Daily Southtown and Star newspapers first team… Earned All-State honors as a senior… 2001 Lincoln Way Central Offensive Player of the Year and MVP… Received all-area accolades in 1999 and 2000… A National Honor Society member and a National Merit Commended Student… Four-year member of high school honor roll.
Personal: Full name is Kristen Elise Jedlo… Born Sept. 29, 1983… Parents are Bud and Doris… Has one sister, Kim (21)… Lists making the Region II team as her highlight in athletic career… Chose UK because her sister played there, the campus, the city of Lexington and the success of the soccer program… Selected UK over Purdue, Dartmouth and Penn… Goals at UK include making the Dean's List.
YearGP/GSSHGAPTSGWGYCRC200220/09204200Total20/09204200
Read more