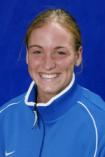 20
Jessica

Laswell
height

5-6

class

Senior

Previous School

Indiana
Lipka on Laswell: "Jessica had a great spring. She is a physical player, a very hard, athletic defender who will strengthen our backfield."
General: Transferred to UK from Indiana… A very tenacious defender… Possesses good speed in the back… Brings experience and quality depth to the defense.
2002: Saw action in two games in her first year with the Wildcats as a sophomore… Played against Michigan State and Southeast Missouri State.
2001: Stepped into the Indiana lineup as a true freshman and made an instant impact in the Hoosier defense… Started in four games and saw action in nine… Registered her first collegiate start against Big Ten rival Purdue on Oct. 26.
Pre-College: Team's offensive MVP and leading scorer as a senior at Paul Lawrence Dunbar… Honorable mention selection as a junior and earned second-team all-state honors as a senior… Dunbar High School was a state semi-finalist in her freshman year and city champion in her sophomore season … LFC Premier soccer club was a state semifinalists after her sophomore campaign… 1999 IU Camp MVP, All-Star and Defensive MVP… Born Jan. 31, 1983…Majoring in biology/pre-veterinary.
YearGP/GSSHGAPTSGWGYCRC20022/000000002001*9/41000000Total2/00000000*member of the Indiana University soccer team
Read more