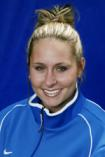 8
Lipka on Wilkinson: "Jen has constantly improved from her freshman year on, and we expect great things out of her during her senior campaign."
General: Anchors the center midfield for the Wildcats… Senior leader working from middle of the pitch… Excels on both sides of the ball.
2002: Started all 20 games for UK in the midfield… Named to the Verizon Academic All-District IV First Team and SEC Academic Honor Roll… Second on the team in points with 10 on three goals and four assists… Scored UK's only goal in what would be a 2-1 double-overtime loss at the hands of No. 23 Utah… Scored an 85th minute equalizer and added a game-winning assist in the 89th minute of UK's 2-1 win over Arizona… Tallied two assists to lead the Cats to their first-ever victory over Florida, 3-0… For the second time, scored an equalizer and contributed a game-winning assist, this time to advance UK past third-seeded Ole Miss in the SEC Tournament.
2001: Named to the Verizon Academic All-District IV second team, earning a 4.00 in Communication… Got the starting nod 19 times in the UK defense and midfield… Strong, aggressive defender… Collected a goal and an assist against the Racers of Murray State (9/17)… Fed Annie Gage in UK's lone goal in the 3-1 loss to Florida in the SEC semifinals (11/9)… Assisted Kim Jedlo's goal with 15 seconds left in a 6-0 blanking at Michigan State (9/9)… Posted a goal and three assists for five points and blasted 17 shots as a sophomore.
2000: Started 15 of 21 games… Took 19 shots… Tallied two goals and six assists for 10 points… Assisted on Kara McCue's game-winning goal against Auburn (10/1).
Pre-College: Four-year letterwinner at Downers Grove South High School… Named the 2000 Daily-Herald Player of the Year… Named all-state, all-conference, all-area, and all-sectional… Plays club soccer for the Windy City Pride and is coached by Ko Thanandabouth… Played in the USYSA National Championship this summer… Also lettered in volleyball and basketball and was an all-conference selection in basketball.
Personal: Full name is Jennifer Wilkinson… Born January 11, 1982… Parents are Gail and Chuck Wilkinson… Lists winning regionals as her most memorable moment in sports… Chose the Wildcats over Iowa and Missouri.
YearGP/GSSHGAPTSGWGYCRC200220/20253410010200121/1917135010200021/15192610000Total62/546161325020
Read more