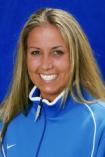 15
Lipka on Weakley: "Jen had a good freshman year, and we look for her to continue to improve on that. She's athletic, great in the air and has a great future ahead of her."
General: Very athletic, clean and versatile player… A strong, good-in-the-air midfielder.
2002: Saw action in 17 games in the UK midfield, making eight starts as a freshman… Contributed two assists to the UK offense… Assisted Elizabeth Ramsey's game-winning goal against No. 23 Illinois… Also helped create Christal Mattingly's insurance goal against Arkansas.
Pre-College: Highly-recruited midfielder from St. Francis DeSales High School in Columbus, Ohio… Amassed academic All-Ohio honors in 2001… Central Ohio All-Star Game participant as a senior in 2001… St. Francis DeSales co-captain her senior campaign… Voted second-team All-District and first-team Central Catholic League in 1999, 2000 and 2001… Lettered all four years in her prep career… Dented the net 11 times and recorded nine assists playing sweeper as a senior… Scored nine goals and three assists while playing fullback her enitre sophomore season… Team's Most Valuable Midfielder in 2001… Made the SNP Central Ohio Super 12 All-Star Team in 2000 and 2001… Central Catholic League champions in 2000 and 2001… Division one state runners-up in 2000… DeSales won the sectional, district, regional and state titles her freshman campaign… Finished 1998 season ranked No. 6 in the country by NSCAA/Umbro Top 25… National Honor Society member and a four-year honor roll student… Spent time off the field as a writer, editor and photographer for The DeSalian, the St. Francis DeSales school newspaper.
Personal: Full name is Jennifer Ann Weakley… Born Dec. 13, 1983… Parents are Debbie and Mark Weakley… Has two sisters, Carrie (27) and Jessica (19)… Lists being a starter on the DHS varsity team that won the Ohio state championship in 1998 as her highlight in athletic career… Chose UK because of the entire package – academic opportunities, soccer program, the coaches, the campus and the social activities that are available… Selected UK over Florida State and Dayton… Goals at UK are to play the best soccer of her abiltiy, win championships and earn a quality education.
YearGP/GSSHGAPTSGWGYCRC200217/86022000Total17/86022000
Read more