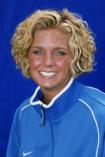 7
Lipka on Hutchison: "Jamie is a good defender and an excellent reader of the game. Coming off an injury, we need to continue to get her fit for the fall."
General: Had a very good spring returning from a knee injury last season… Will compete for starting spot at left back.
2002: Began the season on the bench due to a knee injury… Saw action in six games… Sat out after Oct. 18 due to injury.
2001: Started 10 games as a freshman in the UK defense… Scored first collegiate goal in Kentucky's 3-0 shutout over Utah… Took nine shots on goal… Smart, aggressive defender that started in UK's final nine games… Got the starting nod in both SEC Tournament games and in the NCAA Tournament at Clemson… First start as a Wildcat came in UK's 1-0 setback to New Mexico in the Traditional Bank Invitational at the UK Soccer Complex.
Pre-College: Kentucky State ODP team 1996-2000… Regional ODP Pool 1997-98… Club team is Javanon 83 Girls, coached by Ali Malaekeh… Club was State Champion 1996-2000… Runners-up in 1996 and 1999… First-team All-State 1999 and 2000… 2000 NSCAA Midwest All-Regional team… 2000 MVP of All-State Game… 1997 Most Valuable Defensive Player award in high school.
Personal: Full name is Jamie Hutchison… Born June 6, 1983… Parent is Sandra Hutchison… Chose UK because of the coaches and the CATS center… Chose UK over Ole Miss, South Carolina, Miami (Ohio) and UAB.
YearGP/GSSHGAPTSGWGYCRC20026/31000000200121/109102000Total27/1310102000
Read more