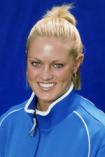 5
Lipka on Saas: "Heather combines well with her teammates and is a valuable asset for our team up front."
General: Should flourish in UK's experienced attack… Will be a key leader for the Cats with her ability to spread the ball around the field.
2002: Played in all 20 games on the Wildcat attack, making eight starts… Second on the team with five assists… Contributed assists on Kara McCue's game-winning goal as well as Kathryn Grandinetti's insurance tally 3-1 victory over Indiana… Assisted Christal Mattingly's insurance goal in 3-0 win against conference rival Florida… Fed Amber Wilson for game-winning tally against SEC foe Mississppi State… Assisted Jen Wilkinson's equalizer in the first round of the SEC Tournament, helping UK get past third-seeded Ole Miss…
2001: Scored the Cats' lone goal in a 5-1 setback at SEC Champion Florida (10/7)… The goal in Gainesville was the first of her career… Earned her first career start in the season opener against Marshall (8/31)… Netted her first goal at the UK Soccer Complex in UK's 7-1 SEC win over Alabama (10/26).
2000: Played in all 21 games… Took seven shots… Tallied two assists for two points on the season.
Pre-College: Three-year starter and letterwinner at Dublin Coffman High School… Team captain her senior year… Named first-team All-Ohio Capital Conference… Helped lead Dublin Coffman to the 1999 OCC League Co-Championship and to the 1999 Ohio HS Central District Runner-up.
Personal: Full name is Heather Ann Saas… Born Aug. 26, 1982… Parents are Bill and Debbi… Lists scoring the game-winning goal in double overtime in a state semifinal game as her most memorable moment in sports… Chose UK because of the variety of academic courses and its commitment to winning… Chose UK over Ball State and Marshall.
YearGP/GSSHGAPTSGWGYCRC200220/815055000200120/211204010200021/07022020Total61/10332711030
Read more