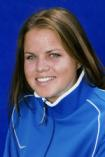 17
Heather

Pease
height

5-8

class

Redshirt Junior
Lipka on Pease: "Heather is a steady defender. I am looking for her to give us added depth in the back."
General: Athletic central defender/defensive midfielder… Organizes well… Good with both feet… Adds quality depth to the UK defense.
2002: Redshirt season.
Pre-College: Four-year varsity soccer player… Three-year starter at East Chapel Hill and was the first sub as a freshman… Was a key member of the 2000 3A state championship team… Team lost in the semifinals as a senior in 2001… Ranked No. 1 in state in 2002 before losing losing in the third round of the state playoffs… Total four-year record was 69-13-9 (.808)… Went 19-1-3 (.891) in 2002… Named first-team All-Conference and All-Region in 2002… Team finished 2002 ranked 14th in the nation… East Chapel Hill finished the 2000 season ranked No. 16 in the country.
Personal: Full name is Heather Lynn Pease… Born Sept. 20, 1984… Parents are Pamela and Gene Pease… Has one sister, Tiffany (21)… Her mother is an author and painter… Lists winning the state championship as a sophomore as her highlight in athletic career… Selected UK for its size, the equine program and its nationally recognized athletics… Also considered Richmond, San Diego State and Charlotte before deciding on UK… Goals at UK are to earn a quality education, find something she wants to do for a career and have good relationships with teammates.
Read more