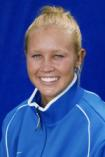 18
Lipka on Witchey: "Erin has stepped forward to become a solid player in the back for us after experiencing some hard times early in her career."
General: Returning starter in the UK midfield… Very clean and has excellent vision… Great timing in the air.
2002: Started all 20 matches in the UK midfield after returning from a 2001 injury… Named to SEC Academic Honor Roll… Scored one goal and added an assist… First point of the year came on game-winning assist of Elizabeth Ramsey's goal against No. 23 Illinois… Found the back of the net in a 2-1 loss to Southeast Missouri State.
2001: Redshirt season.
2000: Played in 19 games… Took 11 shots… Scored two goals… Added two assists for six points… Scored first collegiate goal against Auburn to tie the game and carry the Wildcats to a 3-1 victory on the Plains (10/1)… Assisted on Keri Boyce's game-winning goal against Xavier (9/15).
Pre-College: Four-year letter winner at Bishop Watterson High School… Two-year team captain… Scored 54 goals and tallied 46 assists during high school career… Second-team All-State selection in 1999 and third-team All-State selection in 1998… Named first-team All-District in 1998 and 1999 and was a second-team All-District honoree in 1996 and 1997… Selected first-team All-CCL Conference, 1996-99… Plays club soccer for Ohio Premier coached by Mike Radcliffe and Jon Lipsitz… Led Ohio Premier to the State Cup Championship in 1997, 1998, and 2000… Helped lead the club to the 1998 Regional final and the 1997 Regional semifinals… Helped club to three indoor National Championships… Captain of high school swim team and earned All-State honors in 1998 and 2000… Selected All-District 1996-99… Member of the National Honor Society.
Personal: Full name is Erin Nicole Witchey… Born Nov. 8, 1981… Parents are Mark and Jan Witchey… Lists making it to the semifinals of the Ohio state high school tournament as her most memorable moment in sports… Chose UK because of the academics and high-level of soccer and because she really liked the campus… Chose the Wildcats over Ohio State, Ball State and Clemson… Hobbies include water skiing, snow skiing, coaching and swimming.
YearGP/GSSHGAPTSGWGYCRC200220/2013113010200019/011226000Total39/2024339010
Read more