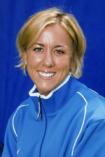 11
Lipka on Slupski: "Dee is a workhorse in the middle of field, whether she is defending or attacking."
General: Tireless worker… Technically sound… Good on the ball and has excellent field vision… Out-hustles her opponents.
2002: Started all 20 matches in the Wildcat midfield… Scored one goal and added three assists on the year… Earned place on the SEC Academic Honor Roll… Scored the only goal of a 1-0 Kentucky victory over No. 17 Michigan… Assisted on Elizabeth Ramsey's goal in SEC-opening win against Vanderbilt… Also contributed assists on goals against league opponents Mississippi State and Arkansas… Both assists led to game-winning goals.
2001: Started 12 games in her first season of play after redshirting in 2000… Earned her first career assist in the Wildcats' 3-0 shutout of Utah (9/21)… Best game of the season came against Indiana, recording an assist and the game-tying goal (11/4)… Goal against the Hoosiers was also her first career goal as a Wildcat (11/4)… Posted UK's fourth goal against the Lady Vols in a 4-2 win over No. 18 Tennessee in the first round of the SEC Tournament (11/8)… Took 12 shots on the season and dented the net twice.
2000: Redshirt season.
Pre-College: Lettered four years at St. Francis DeSales High School… Team captain junior and senior seasons… Helped lead DeSales to the 1997 and 1998 state championship… Led the squad to an undefeated record in 1997 and a final national ranking of No. 3 in the Umbro Soccer America poll… Academic All-American… Member of the National Honor Society.
Personal: Full name is Danielle Nicole Slupski… Born Dec. 18, 1981… Parents are John-Paul and Terri Slupksi… Lists winning the 1997 and 1998 state championships as her most memorable moments in sports… Chose UK because she really liked the campus… Chose the Wildcats over Marshall, Arkansas, Ohio State and Purdue.
YearGP/GSSHGAPTSGWGYCRC200220/2027135110200121/1212226010Total41/32393511120
Read more