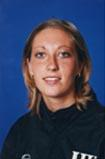 20
Beth

Belanger
height

5-7

class

Redshirt Sophomore
2001 – Did not play due to injury.
2000 – Redshirt year.
Pre-College – Lettered 4 years at Alexis I. duPont High School… Was a 1999 All-American… Named Delaware State Player of the Year in 1999… Was in the Gatorade Circle of Champions and named Gatorade Player of the Year in 1998… Named first-team All-State 1997-00 and first-team All-Conference 1998 and ?99… High School MVP in 1998 and ?99… Recipient of the Coaches Leadership Award in 2000… High School team was state champion 1997-99 and was ranked fourth nationally…Leading scorer 1997-99 with 95 goals… Had 53 assists and 243 points in her high school career… Played for club team FC Delco Fear (EPYSA) under Mary Schanne… Fear was third in Nationals and Region I champions in 1999 and was WAGS Premiere Flight Champion in 1999… EPYSA state champions 1997-00… Three-year ODP Team Captain, DYSA team and Region I Camp… Received four varsity letters for basketball and named All-Conference Honorable Mention in 2000… Netted three varsity letters for volleyball… Awarded one varsity letter for crosscountry and was named Rookie of the Year… Received the Scholar-Athlete award in 2000… Student council representative four years… Four-year participant in the marching band… Honor roll student.
Personal – Full name is Elizabeth Carmella Belanger… Born October 9, 1981… Parents are Steve and Barbara Belanger… Lists scoring three goals with five minutes remaining in the Delaware High School State Championship game and sending the match into overtime for an ultimate win as her most memorable moment in sports… Chose the Wildcats because the school was academically as well as athletically challenging and because of the positive direction of the team, especiallydue to community involvement… Chose UK over Delaware, Boston, UNC- Charlotte, and George Mason… Hobbies include working out, dancing, going to the beach and hanging out with friends.
Read more