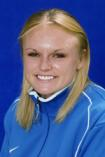 4
Lipka on Janning: "Ashley finished her first season on a very high note and we look for more of the same from her this fall. She has the ability to play in midfield or in the back."
General: Will be plugged into defensive and midfield positions… Very fast, athletic defender.
2002: Played in all but one game for the Wildcats, primarily as a wingback… Started the first seven games of her collegiate career… Earned her first career assist on a goal by Elizabeth Ramsey against Georgia.
Pre-College: Scored 45 goals and 20 assists in her prep career… 110 points scored ranks second in all-time points scored, second in all-time goals and third in career assists at Roger Bacon… Named the GGCL's Player of the Year in its Grey Division after her junior campaign… Was tabbed GGCL first team, first-team All-Ohio and first-team All-City in 2000… Repeated first-team All-City and GGCL honors as a senior and was voted a Southwest Ohio All-Star.
Personal: Full name is Ashley Renee Queen-Janning… Born Feb. 18, 1984… Parents are Jerry and Terri Janning… Has one brother, Cliff Queen (24), and one sister, Jenny Queen (21)… Lists going to nationals and and making the state semifinals during high school as her highlights in athletic career…Chose UK because the people were friendly and the academics are outstanding… Chose Kentucky over Ohio State, Cincinnati and South Carolina… Goals at UK: to get a quality education, play to the best of her abilities and win an NCAA championship.
YearGP/GSSHGAPTSGWGYCRC200219/71011010Total19/71011010
Read more