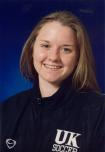 30
Andrea

Schuhmann
height

5-3

class

Redshirt Freshman
2001 – Redshirt year.
Pre-College – High School captain senior year… Member of All-District Tournament team… Member of Catholic Cup All-Tournament team… Played club soccer for Javanon 83 Girls team, coached by Ali Malaekeh… Member of 1998, 2000, and 2001 Kentucky State Cup Championship team… 2000 Super Clubs Regional Tournament Runner-up… 2000 Raleigh Shoot-out Champions… National Honor Society Member… Academic All-State Honorable Mention 1997-2000… Received the 1998 Sacred HeartAcademy Award for Service.
Personal – Full name is Andrea Nicole Schuhmann… Born September 10, 1982… Parents are Dennis and Carole Schuhmann… Lists her most memorable moment in sports as defeating a rival team after losing to them three previous times, marking a turnaround in her team's confidence and abilities… Chose UK because she is a Wildcat fan, the chance to play for UK, and its academics.
Read more