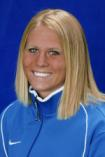 14
Lipka on Haeussler: "Alli is a very good distributor of the ball. She also is great in the air and gives our team a tremendous amount of leadership in the midfield."
General: Returns to the field after a redshirt season in 2002… Will compete for starting position in the midfield.
2002: Redshirt season… Played in four games before suffering a season-ending injury at Utah… Named to the SEC Academic Honor Roll.
2001: Clinched UK's first SEC victory of the season with the game-winning goal against Vanderbilt (9/2)… Goal came off of a corner kick from Annie Gage with seven minutes remaining… Repeated the scenario in a 2-1 win at Michigan (9/7)… Partnered with Gage to assist Keri Boyce's game-winning goal in the Cats' 1-0 shutout at South Carolina (10/5).
2000: Played in 20 games… Started seven… Notched two goals and three assists for seven points… Took 11 shots… Recorded first collegiate goal in a 4-0 shutout at Ohio University (9/10).
Pre-College: Lettered four years at Fairfield High School… Named first-team all-conference and was an all-state selection in 1999… Selected All-Southwest Ohio and was selected to play in the Southwest Ohio Senior All-Star game… Named GMC All-Academic and first-team All-Academic Southwest Ohio 1997-99… Named first-team Academic All-State in 1999.
Personal: Full name is Allison Kay Haeussler… Born September 29, 1981… Parents are Dave and Mary Haeussler… Chose UK because she loved the campus, felt comfortable with the coaches and wanted to compete at the highest level… Chose UK over Ohio State, Ohio and Clemson.
YearGP/GSSHGAPTSGWGYCRC20024/0Injured / Granted medical redshirt200121/1919226200200020/711237000Total45/26344513200
Read more