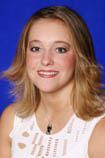 2003 Season: Competed in two meets on beam, including a career-high 9.625 on beam at Auburn (2/21/03)
Pre-College: Competed at Level 10 for the past five years… Qualified for nationals once — was third at State, second at Regionals and second on bars… Placed first at State on beam in 2000… Four-year honor-roll student, with 3.75 GPA in high school.
O'Keefe's Career Averages
Year
Vault
Bars
Beam
Floor
All-Around
2003
—
—
9.625
—
—
O'Keefe's Collegiate Highs
Vault:
—
Uneven Bars:
—
Balance Beam:
9.625 at Auburn (2/21/03)
Floor Exercise:
—
All Around:
—
Personal
Full Name: Staci Rae O'Keefe
Birth Date: July 28, 1984
Parents: Rick & Suzi O'Keefe
Siblings: Shane
Major: Journalism
Nickname: Stac, O'Kie
Did You Know?
Favorite Foods: Cake frosting, salmon, mashed potatoes and chicken
Favorite Movies: Old School, Dumb and Dumber
Favorite Musical Artist: Tim McGraw, Kenny Chesney, Eminem
Favorite Apparatus: Bars
Started gymnastics at age: Nine
Not many know this about me: I sleep with my eyes open
In my spare time I like to: Watch sports and play sports
The one person in history I would most like to meet: Joe Sakic
If I was not competing in gymnastics, the other sport I would play: Football. I plan to walk-on the team after I finish gymnastics.
My career goal is to become: A sports broadcaster on ESPN.
The moments in my life when I was most proud: Becoming a Christian; receiving a gymnastics scholarship
My trademark expression is: "Game time, uh!!"
The one thing I like most about gymnastics: The team, flipping and feeling like I'm flying
Why UK? Awesome team and great coaches.
Read more