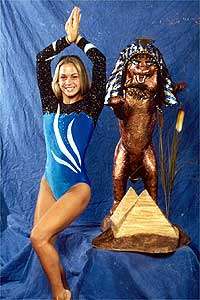 Nicole

Allen
height

5-4

class

Redshirt

Previous School

SUNY Brockport

High school

Lancaster Central
Coach Little on Nicole
"In her first year, she really exceeded our expectations. Now a senior, her experience will help us when we get to a more competitive level. Her consistency and presentation will help her earn a spot in the lineup."
2002 Season: Was a regular in the bars and floor lineups? Season-high 9.725 on bars came against Florida (1/18/02)? Scored a season-high 9.800 on floor at the Bahama Breeze Invitational (1/11/02)? Named a PNC Bank Student-Athlete of the Week? Finished season with highest grade point average on the team? Member of the SEC Academic Honor Roll… Named to the Verizon Academic All-District IV first team.
2001 Season: Received a scholarship for her junior year and responded with career highs on the bars, beam and floor… Top marks on floor (9.850) and bars (9.775) came in win over Illinois (2/10/01), while her best mark of 9.850 on beam tied her with teammate Aronda Primault for third in near upset at Alabama (2/24/01)… Her average of 9.660 was good for third on beam… Named to the Verizon Academic All-District IV first team and inducted into the prestigious UK Society of Character… Also named an NACGC/W Academic All-American.
2000 Season: A walk-on, provided depth for the GymKats on bars, beam and floor… Finished with a 9.567 average on bars, a 9.340 on beam and a 9.635 on floor… Highlights included a 9.775 floor performance at N.C. State (2/19/00) and a 9.725 beam routine vs. West Virginia (3/10/00)…
1999 Season: Competed at State University of New York at Brockport (SUNY)… Brockport all-around record holder for the 1999 season (37.875)… Recorded a season and team-high on balance beam with a 9.7… Brockport bars, beam, floor, vault and all-around record holder… Three-time All-American at the Division III level… Division III bars champion in 1999… Was named to the Dean's list at Brockport twice.
Pre-College: Attended Lancaster Central High School… Competed for six years on her high school gymnastics team, two years as captain… Finished fifth in all-around at the 1998 High School Nationals… 1998 USAG National Qualifier.
Allen's Career Averages
Year
Vault
Bars
Beam
Floor
All-Around
2002
—
9.579
9.262
9.585
—
2001
—
9.497
9.660
9.691
—
2000
—
9.567
9.340
9.635
—
Allen's Collegiate Highs
Vault:
—
Uneven Bars:
9.775 vs. Illlinois (2/10/01)
Balance Beam:
9.850 at Alabama (2/24/01)
Floor Exercise:
9.850 vs. Illinois (2/10/01)
All Around:
—
Personal
Full Name: Nicole Renee Allen
Birth date: January 7, 1980
Parents: Barbara and Dennis
Siblings: Dennis Jr., Marty and Dana
Major: Biology (Pre-Med)
Nicknames: Nic, Nikki
Did You Know?
Favorite Foods: Steak, Chocolate, Crablegs, Ice Cream
Favorite Book: Summer Sisters by Judy Blume
Favorite Movie: The Sixth Sense
Favorite Musical Artist: Dave Matthews Band
Favorite Apparatus: Floor
Not many know this about me: I'm a daddy's girl.
Pet Peeves: Tardiness and laziness
In my spare time I like to: Bum around and eat ice cream; or workout!
If I was on Fear Factor, this would be my biggest fear: The Dark
The teammate or staff member I would use as a lifeline on "Millionaire": Karla Adelt
If I could have dinner with three famous people, they would be: Al Pacino, Robert DeNiro and Keanu Reeves
If I was not competing in gymnastics, the other sport I would play: I would be a famous NFL player!
Best present I ever received: The love and support from my family!
The moment in my life when I was most proud: When I earned a Division I scholarship.
The one thing I like most about gymnastics: Competing as a team.
Why UK? The coaches and the facilities, including the Center for Academic and Tutorial Services
Read more