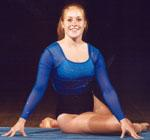 Mindy

Smith
height

5-2

class

Senior

High school

Borden
Coach Little on Mindy
"Mindy is an incredible athlete and has a tremendous work ethic. She was one of the top gymnasts in the country on beam last year, and we expect her to continue that this season. She is also one of our top gymnasts on floor, but we will use her on a need-only basis since she has had some ankle problems. Mindy is just a great student-athlete and role model to have."
2002 Season: Competed exclusively on beam? Finished third on the team? Scored a season-high 9.825 on two occasions, in addition to two 9.800s? Claimed beam title in season-opening victory over nationally ranked Ohio State (1/5/02)? Member of the Southeastern Conference Academic Honor Roll? Inducted into the prestigious UK Society of Character.
2001 Season: Led the team on the beam with a 9.858 average, scoring 9.800 or better without a fall in all 12 meets… Scored a 9.900 or better on beam twice, including a career-high 9.925 in near-upset of Alabama in Tuscaloosa (2/24/01) and a 9.900 at Auburn (1/19/01)… Top two beam scores also rank in the top five all-time at UK… Finished first on beam in eight of 12 meets… Matched her career high on floor with a 9.900 vs. Bowling Green/C. Michigan/Pittsburgh (3/9/01) which ranks fifth all-time at UK… Won the Ernestine Weaver Award at Florida (3/2/01) for the most creative and entertaining routine of the competition… Named an NACGC/W Academic All-American.
2000 Season: Was the GymKats' top performer on balance beam with a 9.788 average… Did not count a fall all season on the event and posted a career high 9.850 vs. West Virginia (3/10/00)… Made several all-around performances, including a 38.675 at Georgia (2/4/00)… Finished second on the team on floor with a 9.673 average, including a 9.900 vs. Nebraska (2/11/00)… Named an NACGC/W Academic All-American.
Pre-College: Member of the 1998 Region 5 All-Star team that traveled to Sweden… Finished fifth in all-around at the 1998 U.S. Challenge… Member of the 1997 Region 5 National Championship team… Four-time national qualifier… A graduate of Borden High School.
Smith's Career Averages
Year
Vault
Bars
Beam
Floor
All-Around
2002
—
—
9.608
—
—
2001
—
—
9.858
9.718
—
2000
9.531
8.975
9.788
9.673
37.717
Smith's Collegiate Highs
Vault:
9.575 vs. Nebraska/Illinois/James Madison (2/11/00)
Uneven Bars:
9.725 at NC State (2/19/00)
Balance Beam:
9.925 at Alabama (2/24/01)
Floor Exercise:
9.900 Three Times
All Around:
38.625 at Georgia (2/4/00)
Personal
Full Name: Mindy Rae Smith
Birth Date: July 24, 1981
Parents: Rhonda and Sam Smith
Siblings: Cassie, Matthew, Nathan and Nicole
Major: Psychology
Nickname: Mind
Did You Know?
Favorite Foods: Ice Cream, Peanut Butter, Jalapenos
Favorite Movie: The Princess Bride
Favorite Musical Artists: Garth Brooks, Creed
Favorite Apparatus: Balance Beam
Not many know this about me: I have Obsessive Compulsive Disorder; I graduated in a class of only 39 people.
Pet Peeves: Self-centered people; when people are rude for no reason
In my spare time I like to: Be with my friends and family; I love to cook!
If I was on Fear Factor, these would be my biggest fears: Snakes and enclosed places
The teammate or staff member I would use as a lifeline on "Millionaire": Mo
If I could have dinner with three famous people, they would be: Brad Pitt, Garth Brooks, Michael Jordan
The one person in history I would most like to meet: The inventor of peanut butter
If I was not competing in gymnastics, the other sports I would play: Softball or fitness competitions
Best present I ever received: Car
The moment in my life when I was most proud: 2001 SEC Championships when we pulled everything together and became the team we knew we could be
The things I like most about gymnastics: The competitions and traveling
Why UK? I really fit in with the team and the coaches.
Read more