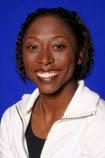 Michelle

Gales
height

5-4

class

Senior

High school

North Springs
2003 Season: Improved on an outstanding freshman campaign with an even better sophomore year… Was the team's top performer in the floor exercise with a 9.721 average… Established new career highs on vault, bars and all-around… Finished first on vault 9.775 and floor exercise 9.800 vs. George Washington (1/10/03)… Scored a 39.400 all-around score vs. Denver and SEMO (3/14/03)… Only Jenny Hansen, an eight-time national champion, has recorded a higher all-around score… Recorded four performances at or above 9.900 on the season… Tied for 13th on the floor exercise 9.850 and tied for 11th all-around 39.025 at the Southeastern Conference Championships (3/29/03)
2002 Season: Freshman made immediate impact competing in vault, beam and floor lineups for most of season… Scored a career-high 9.950 on floor against Auburn… Had six scores of 9.900 or better on floor… Claimed three floor titles and four seconds… Career-high 9.825 on beam helped lead UK to a school-record 196.375 at Texas Woman's University… Career-high 9.800 on vault also came against Auburn… Competed in all-around in season opener, tallying a 37.550.
Pre-College: Won numerous Level 10 titles at state and regional competitions, including a first-place finish on floor exercise at regionals in 2000… Finished 11th in the all-around at the 2000 Level 10 national competition… In 1999, claimed a first-place regional and fourth-place national finish on the vault in Level 10… Was an Honor Roll student at North Springs High School.
Gales' Career Averages
Year
Vault
Bars
Beam
Floor
All-Around
2003
9.783
9.450
9.441
9.721
38.414
Gales' Collegiate Highs
Vault:
9.875 vs. Brigham Young (1/31/03)td>
Uneven Bars:
9.800 at Alabama (3/8/03) & vs. Denver/Southeast Missouri (3/14/03)
Balance Beam:
9.900 vs. Denver/Southeast Missouri(3/14/03)
Floor Exercise:
9.950 vs. Auburn (2/22/02)
All Around:
39.400 vs. Denver/Southeast Missouri
Personal
Full Name: Michelle Monique Nicole Gales
Birth Date: February 6, 1983
Parents: Vanessa and Micheal Gales
Siblings: Micheal
Major: Merchandising
Nickname: D-Bo
Did You Know?
Favorite Foods: Pizza, Macaroni & Cheese and candy
Favorite Movie: Dumbo
Favorite Musical Artist: Musiq Soulchild
Favorite Apparatus: Floor
Not many know this about me: I ran track for my high school
Pet Peeves: When people say "guess what I heard" and then say "nevermind"
In my spare time I like to: Play video games
Started gymnastics at age:Three
If I was on Fear Factor, this would be my biggest fear: Eating bugs
The teammate or staff member I would use as a lifeline on "Millionaire": Mo
If I could have dinner with three famous people, they would be: Tyrese, Janet Jackson, Allen Iverson
The one person in history I would most like to meet: Jagged Edge
If I was not competing in gymnastics, the other sport I would play: Track or tennis
Best present I ever received: Nintendo 64
The moment in my life when I was most proud: High School Graduation
My career goal is to become: An advertiser or buyer for Nike
The one thing I like most about gymnastics: The competition
Why UK? Good school and I recieved a scholarship.
Read more