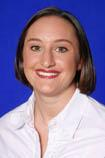 Lucy

Burgin
height

5-4

class

Redshirt
2007 (Senior): A steady all-around performer for the Cats…Claimed two of her three career individual title during her senior season…Recorded a career-high 9.875 on the uneven bars against LSU during her Senior Night.
2006 (Junior): An all-around competitor for Kentucky all season…Had her best showing at Arkansas when she posted a 39.100 score, including a season-best 9.825 on the beam…Best event was the vault, where she cracked the 9.800 plateau six times and averaged 9.695 for the season…Had five 9.8's or better on the uneven bars, including a career-high tying 9.875 score against Florida…Also had best floor score of the year against the Gators, a 9.825, to tie a career high mark.
2005 (Sophomore): Tremendous all-around talent…One of three Cats to compete in all four events…Finished tied for fifth on vault at NCAA Regional with a career-high mark of 9.85…Earned third in the all-around with a score of 38.775 and tied for third on bars vs. Auburn on Jan. 29 en route to earning UK Gymnast of the Week honors…Posted the Cats' top vault score of 9.85 at the NCAA Regional meet on April 8.
At Eastern Michigan: Tied for 10th on the uneven bars at the 2003 Mid-American Conference Championships, scoring a 9.85…Scores a 9.775 on vault and finished 11th at the MAC Championships…Recorded a 9.775 on floor exercise against Kent State on Jan. 18.
Pre-College: Level 10 Alabama all-around state champion in 2002 … Level 10 1st place on vault at 2002 Regional Championships … Also finished 4th on floor, 5th on bars and 6th all-around at Regionals … Placed 10th on vault and 19th all-around at Level 10 Nationals … Was a part of the 1st place Region 8 team at Nationals
Personal
Full Name: Lucy Annette Burgin
Birth Date: October 11, 1983
Parents: Merritt and Annette Burgin
Siblings: Helen, Lynne, Merritt, Marshall
Major: Nursing
Read more