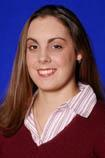 Lindsay

Cameron
height

5-4

class

Senior

High school

Cookeville
2003 Season: Recorded a career-high on vault 9.875 at Brigham Young (2/28/03)… Placed second on vault 9.850 and scored a season-high 9.750 at Auburn (2/21/03)… Finished 19th on vault and tied for 27th on bars at the Southeastern Conference Championships.
2002 Season: Walk-on who entered the bar lineup in the second meet of the season… Scored a career-high 9.775 on two occasions including at the SEC Championships… Finished fifth on the team on bars… Also scored a pair of 9.750s to end the regular season… Was named the team's most improved gymnast.
Pre-College: Competed at the 1998 Level 9 Regionals, before advancing to the Level 10 Regionals in 1999-2001… Graduated 28th in her class at Cookeville High School… Was a member of the Honor Roll and National Honor Society.
Cameron's Career Averages
Year
Vault
Bars
Beam
Floor
All-Around
2003
9.656
9.405
—
—
—
2002
—
9.600
—
8.825
—
Cameron's Collegiate Highs
Vault:
9.875 at Brigham Young (2/28/03)
Uneven Bars:
9.775 vs. Ball State (2/15/02) & at Texas Woman's U. (3/15/02)
Balance Beam:
—
Floor Exercise:
8.825 vs. N.C. State/BYU (1/11/02)
All Around:
—
Personal
Full Name: Lindsay Chirae Cameron
Birth Date: October 8, 1982
Parents: Melanie and Bill Cameron
Siblings: Donna Wood and Tim Rodgers
Major: Journalism
Did You Know?
Favorite Food: Prime Rib
Favorite Books: Bible, Left Behind
Favorite Movie: Rudy
Favorite Musical Artists: Third Day, Waterdeep, Sonic Flood
Favorite Apparatus: Floor
Pet Peeves: A bad attitude and negative outlook
In my spare time I like to: Volunteer at church and do things for others
If I was on Fear Factor, this would be my biggest fear: Spiders crawling around me
The teammate or staff member I would use as a lifeline on "Millionaire": Mo
If I could have dinner with three famous people, they would be: Billy Graham, Deion Sanders, Amy Grant
The one person in history I would most like to meet: Paul, the Apostle
If I was not competing in gymnastics, the other sport I would play: Football
Best present I ever received: Life
The moment in my life when I was most proud: My baptism
My trademark expression is: "Are you saying I'm fat?"
The things I like most about gymnastics: Overcoming obstacles, achieving goals and having fun with the girls
Why UK? The gymnastics
Read more