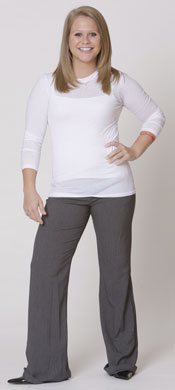 2008 Member of Frank G. Ham Society of Character
2006/2007 SEC Academic Honor Roll
2008 (Senior): Earned the first title of her career during Excite Night on Jan. 12 against Auburn with a 9.85 on the floor exercise…The mark was also a season high for the senior on that event…Competed in seven meets for the Wildcats on beam with a season high 9.85 notched against Arkansas.
2007 (Junior): Competed in three meets for Kentucky, performing on vault and beam.
2006 (Sophomore): Was Kentucky's second-best performer on vault for the year, averaging a 9.75 … Recorded a career high with a 9.85 in the NCAA Regional on the vault, one of five 9.8s or better for the season en route to a 9.702 average, third best on the team … Had a brilliant 9.925 on beam at Arkansas for a new career high … Was a consistent floor exercise performer all season, including a career best of 9.875 at Oregon State.
2005 (Freshman): Consistent performer for the Cats in her first season… Scored a career-high and UK's top season score of 9.875 on the beam vs. Michigan State/Central Michigan (3/4)… Won the beam competition against Bowling Green (1/8) with a mark of 9.8… Earned UK Gymnast of the Week (1/17) honors after posting a top team mark of 9.825 on the beam vs. Arkansas (1/14)… Competed in every meet for UK.
Pre-College: Won the 2001 Georgia State champion all-around and uneven bars titles… A two-time Junior Olympic National Championship qualifier, placed third on the floor in 2003… Is the reigning Level 10 Georgia State Champion on balance beam and was crowned the 2003 All-Around Georgia State Champion… In 2003 claimed the Georgia Region 8 balance beam and floor titles… Landed a second place finish on the beam and a third-place finish on the all-around at the 2003 Level 8 Georgia meet.
Personal: Full name is Kristen Deloris O'Shields … Daughter of Joe O'Shields and Debbie O'Shields-Wiggs … Has a brother, Kelly … Born on Aug. 25, 1986 at Beaufort, S.C.
Collegiate Bests
Vault: 9.850 at NCAA Central Regional (4/7/06)
Balance Beam: 9.925 at Arkansas (2/24/06)
Floor Exercise: 9.875 at Oregon State (3/17/06)
Read more