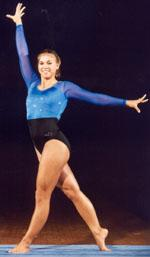 2002 Season: Competed in 10 of 12 matches for UK as a freshman… Set career-high marks on vault 9.700 and on floor 9.650 at Alabama (3/08/03)… Finished sixth on the team on vault average and on floor average… Set a career-high on bars 9.750 at Arizona State (3/21/03)
Pre-College: Level 10 gymnast for four years at Queen City Gymnastics… Level 10 all-around state champion in 2001 … Member of three-time defending state champions… Fourth on beam and vault at nationals, 12th in all-around… High school honor student.
Roemerman's Career Averages
Year
Vault
Bars
Beam
Floor
All-Around
2003
9.700
9.378
—
9.575
—
Roemerman's Collegiate Highs
Vault:
9.700 at Alabama (3/8/03)
Uneven Bars:
9.750 at Arizona State (3/21/03)
Balance Beam:
—
Floor Exercise:
9.650 at Alabama (3/8/03)
All Around:
—
Personal
Full Name: Krista Michelle Roemerman
Birth Date: February 8, 1985
Parents: Susan & Michael Roemerman
Siblings: Dave & Geoff
Major: German and International Economics
Nickname: Chelle, K-Roe, Rome
Did You Know?
Favorite Foods: Ribs, cheese burgers and mashed potatoes
Favorite Movies: Anything with Tom Hanks, Adam Sandler or Jim Carrey
Favorite Musical Artist: Eminem, Dixie Chicks and Tim McGraw
Favorite Apparatus: Bars
Started gymnastics at age: Seven
Not many know this about me: I can't swim
In my spare time I like to: Hang out with friends
The one person in history I would most like to meet: Waylon Jennings
If I was not competing in gymnastics, the other sport I would play: Cheerleading or fishing
My trademark expression is: "Come on now!"
The moment in my life when I was most proud: Receiving a scholarship to UK
Not many people know but: I graduated high school a year early
The one thing I like most about gymnastics: Competition
Why UK? Nice campus, team and coaches.
Read more