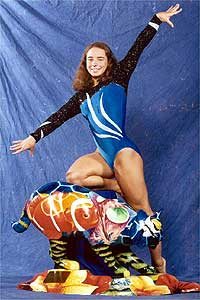 Katie

Elder
height

5-0

class

Junior

High school

Eastern
Coach Little on Katie
"Katie comes to us as a walk-on and has a tremendous work ethic. She just kind of never stops. She works very, very hard and could earn a spot in the beam lineup."
Outlook: Elder joins a long list of walk-ons to grace the GymKat roster. As with those in the past who have quickly earned spots in the lineup, the Louisville, Ky., native could see action on beam. Her hard work and dedication could move her into position to give Kentucky extra depth on the beam.
2002 Season: Walk-on competed in just one meet, performing an exhibition routine on beam.
Pre-College: Finished third on the balance beam at the 2001 Level 9 Eastern Nationals… Claimed first place in the all around at the Kentucky State Level 9 Championships in 2001… Was a Gymnast of the Year in Kentucky in 2000… Graduated from Louisville's Eastern High School.
Personal
Full Name: Katherine Ruth Elder
Birth date: March 30, 1983
Parents: Mary Jo and Harold B. Elder
Siblings: Chris, Adam
Major: Pre-Pharmacy
Nickname: Katie
Did You Know?
Favorite Food: Spaghetti
Favorite Book: The Green Mile by Stephen King
Favorite Movies: Meet the Parents, Prince of Egypt
Favorite Musical Artist: Garth Brooks, Dream Theatre
Favorite Apparatus: Balance Beam
Not many know this about me: Love to write mysteries
Pet Peeves: Kentucky drivers
In my spare time I like to: Draw, read, dive
If I was on Fear Factor, this would be my biggest fear: Snakes
The teammate or staff member I would use as a lifeline on "Millionaire": Kara Prestigiacomo
If I could have dinner with three famous people, they would be: John Travolta, Garth Brooks, Adam Sandler
The one person in history I would most like to meet: Johann Gutenberg
If I was not competing in gymnastics, the other sports I would play: Diving, Tennis
Best present I ever received: Drawing Desk
The moment in my life when I was most proud: Placing third on balance beam at Nationals
The one thing I like most about gymnastics: It's fun
Why UK? To compete collegiately and live on my own
Read more