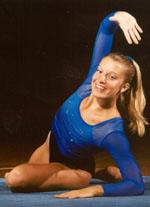 Kara

Prestigiacomo
height

5-4

class

Senior

High school

Brookwood
2003 Season: Improved her season average on vault and floor exercise from her freshman campaign… Scored a career-high 9.850 on vault, finishing third in a win over BYU (1/31/03)… Finished fourth on vault 9.825 against Arkansas and Texas Women's University (2/7/03)… Finished fifth on the team with a 9.715 vault average
2002 Season: Made immediate impact on vault, entering lineup in season-opener… Opened the season with a career-high 9.775 against Ohio State, going on to match it two more times including at the NCAA Southeast Regionals… Saw limited action on floor, scoring a career-high 9.775 at Regionals.
Pre-College: Qualified for the 2001 Level 10 Nationals, finishing fourth on the vault… Claimed third place on the vault and floor exercise and fourth place in the all-around at the 2000 Level 10 Regionals… Finished second on floor and vault at the 2000 Level 10 Regionals and was third in the all-around… Was the 1999 Georgia Level 10 uneven bars champion… Member of the 1996 Atlanta Olympic Exhibition Team… Graduated second in her class at Brookwood High School and was a member of the National Honor Society.
Prestigiacomo's Career Averages
Year
Vault
Bars
Beam
Floor
All-Around
2003
9.715
—
9.225
9.296
—
2002
9.706
—
—
9.250
—
Prestigiacomo's Collegiate Highs
Vault:
9.850 vs. Brigham Young (1/31/03)
Uneven Bars:
—
Balance Beam:
9.775 at Brigham Young (2/28/03)
Floor Exercise:
9.775 at NCAA Southeast Regional (4/6/02)
All Around:
—
Personal
Full Name: Kara Lynn Prestigiacomo
Birth Date: September 21, 1982
Parents: Judy and Gary Prestigiacomo
Siblings: Kelli and Krista
Major: Nursing
Nickname: Giacomo or Care Bear
Did You Know?
Favorite Foods: Fettuccini Alfredo, Shrimp, Fruit
Favorite Book: Cold Sassy Tree
Favorite Movie: Evita
Favorite Musical Artist: Dave Matthews Band
Favorite Apparatus: Floor
Started gymnastics at age: Three
Not many know this about me: I was salutatorian of my high school class
Pet Peeves: Smacking gum, being called "Krista"
In my spare time I like to: Run, shop and dance
If I was on Fear Factor, this would be my biggest fear: Snakes
If I could have dinner with three famous people, they would be: Javier Lopez, Antonio Banderas, Lenny Kravitz
The one person in history I would most like to meet: George Washington
If I was not competing in gymnastics, the other sport I would play: Track and Field (Pole Vault)
The moment in my life when I was most proud: 2001 USAG Nationals
My biggest role model is: My grandfather for his courage when faced with adversity
The one thing I like most about gymnastics: The "rush" from trying new skills for the first time
Why UK? I love the campus, the coaches and everyone on the team!
Read more